George Clooney on Time Magazine
George Clooney, Movie Star, Comes to Dinner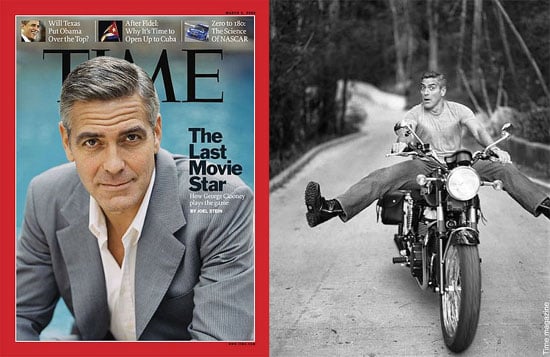 0
George Clooney, Movie Star, Comes to Dinner
George Clooney is touted as "The Last Movie Star" on the cover of this week's Time magazine, complete with a photospread showing off his silly and handsome sides. In the article, George comes over to the writer's house for dinner and comes off as a man who knows how to be an enthusiastic guest. Between talking about his life philosophies and showing off impressions, he spent part of the night trying to disarm a mysterious alarm going off in the house — watch the video, it's hilarious. This weekend we'll see him all dressed to the nines once again walking the red carpet as an Oscar nominee, but it's always nice to have a reminder that he's just as awesome as he seems. Here are a few highlights from the interview:
"From the moment I was born, I was watched by other people. I was taught to use the right fork. I was groomed for that in a weird way," Clooney says. "You give enough. You play completely. You don't say, I don't talk about my personal life. People say they won't talk about their personal life. And then they do. And even when the tabloids say really crappy things and it pisses you off and you know it's not true, you have to at least publicly have a sense of humor about it."
"Before they could kill me on Batman & Robin, I said, 'It's a bad film, and I'm the worst thing in it.' You try to defend an indefensible position, you'll look like a schmuck. The guys I dig don't do that. Look at Winston Churchill. He said, 'These are our shortcomings. Now let's get past it,'" Clooney says. He thinks that's all Cruise needs to do. "I talked to him the other day, and he's a good egg. There's nothing self-serving about what he's saying. He has to turn it into a way to make fun of himself."
I love the mental image of Clooney calling up Tom Cruise just to give him some solid advice — the sense of humor is a big part of what makes George so attractive. He may be the last of a throwback sort of Movie Star, but really he seems to be in a league all of his own.