George is the Sexiest Man Alive....Again
People's Sexiest Man Alive has been revealed, and George Clooney wins again! In a way we must congratulate ourselves since we kind of predicted George would win. We were holding out for Damon but as much as we like Matt, George is in a whole other sexy class. This year People also recognized Brad, Jake and Johnny, but what we're really into is the special George interview within the issue. In it, George answered some burning questions that everyone is dying to know - what it's like to go on a date with the Sexiest Man Alive. People reports: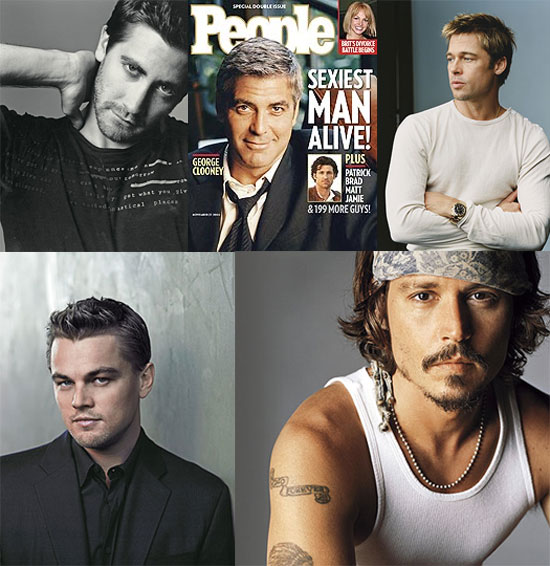 What's it like to go on a date with you? I don't go on that many dates, because the truth is, anytime you go out in public with a girl when you're well-known, there are pictures of you everywhere and it's like you're a thing. So mostly I spend time getting to know people at work...
What's your perfect first date? Not getting your picture in the paper. The second date, take your hits – but it would be nice to see if you have anything in common before it's in the paper.
What's your "type?" All different types. ... Everybody says this, but sense of humor is No. 1 for me. It's certainly what's most attractive. It's not the first thing you notice at 21, but it's the first thing you notice now. You also have to have a sense of humor about my life. It certainly has had an effect on relationships, but I would bet less of an effect than my own issues or insecurities. You can't really blame outside forces for things not working out. You have to take some responsibility.
For more from the interview with George, just read more
Will you ever have kids? I think it's the most responsible thing you can do, to have kids. It's not something to be taken lightly. I don't have that gene that people have to replicate. But everything in my life has changed over time.
What do you love about Italy? I think people in Italy live their lives better than we do. It's an older country, and they've learned to celebrate dinner and lunch, whereas we sort of eat as quickly as we can to get through it. We're constantly going – work, work, work. Italians have taught me about stopping.
Will you ever run for office? No. I can get more done from where I am on issues than I could trying to make policy. I don't have to compromise on anything. I don't have to worry about alienating anyone. I can go in headfirst.
On his screen saver: A picture of my two bulldogs Bud and Lou, both of whom have passed away. They're gone, but I keep them on my screen saver because they're my buddies.
On his iPod: I'm really fond of this kid Peter Cincotti and of Michael Bublé. They sing some of the same arrangements that my Aunt Rosemary used to do. I just downloaded 25 or 30 songs from iTunes from a bunch of Rosemary's albums because I didn't really have my version of her greatest hits. There are certain songs she did better than anybody. She has a version of "Don't Fence Me In" that is mind-bogglingly good.
On his TiVo: Jon Stewart. I always put on the three network-news channels. Keith Olbermann. I still love Letterman. The Office.
In his shower: A steam room. Growing up, in my early 20s, we'd go to the Desert Inn and they had this great steam room, so I built one. There is eucalyptus for the steam and then a big tub of generic shampoo and some generic conditioner. I have no hair products and no great grooming habits. I use Ivory soap. But I have an old-fashioned shaving brush, and you can get a really good foam going with the soap. I like the normal disposable razors.