George Thinks Matt is the Sexiest Man Alive
Apparently George Clooney agrees with me that Matt was shafted from this year's title for Sexiest Man Alive. While you all wish Johnny Depp had won, the prankster Clooney is still campaigning for his friend Matt to win. Poor Matt just wants to be left alone and to keep out of the press. He even told Details magazine that he tries to act boring to avoid overexposure. Still, when George Clooney was named Sexiest Man Alive this year, the first person he thought of was Matt. He said: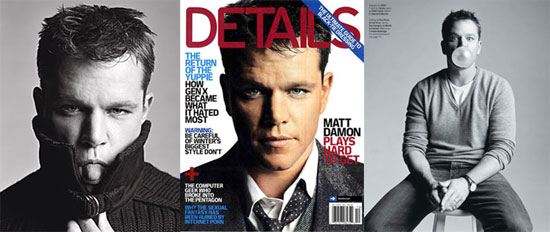 "I gotta say, this is a very big disappointment for Matt, because he did run a very good campaign," Clooney jokes in the new issue of PEOPLE. "If you've been around him, you know he's sexy. His eyes pop. They have a twinkle. He's got a good smile. He's quite the dancer. He does rock a Speedo in Ocean's 13.

Clooney, a two time Sexiest Man Alive honoree (a title he shares with Ocean's costar Brad Pitt) says Damon sought his advice, "like a politician would go to Clinton" to find out how be chosen for the cover himself.

His advice: "I think you should go with a snakeskin suit and some mousse and give a sort of up-on-your toes pose." Damon strikes the pose in a photo, provided to PEOPLE by Clooney, taken in November 1997.

"I'm afraid he's going to think that I was using my influence to quietly, secretly take him down," Clooney says. "But really, Matt's got a couple of years left before it's time for him."
George is so funny. No wonder he's Sexiest Man Alive. Let's just hope that Matt isn't holding too much of a grudge over it. In case you want to see that lame pic of Matt dressed in a snakeskin suit not looking too sexy, click here.