Gerard Butler and Jennifer Aniston Butt Grabbing Photo 2010-04-02 13:30:00
Gerard Butler Laughs Off Jennifer Aniston Butt Touching Pic — Fair Explanation or No Way to Deny the Grab?
Jennifer Aniston and Gerard Butler are back from their whirlwind European tour promoting The Bounty Hunter on red carpets in many countries — but it's one behind-the-scenes photo from Paris that still has people talking. In this shot it looks an awful lot like Gerard is getting handsy with Jennifer Aniston, though he denies that there was any frisky business. During a radio interview this morning, Gerard played it coy about the photo and their relationship, saying: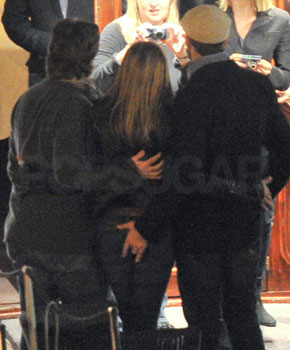 "I'm a bit of a bad boy . . . by the way, I'm still not sure my hand was really on her butt. I think that's just the way the camera was angled . . . I actually haven't seen [the photo]. . . . If I was going out with Jennifer, I'd be more than happy to say I'm going out with Jennifer — it's just not true."
So what do you think of his answer — fair explanation and everyone's reading too much into it or still think he was totally touching her?