Ginnifer Goodwin Is Pregnant
Speed Read: Ginnifer Goodwin Is Pregnant!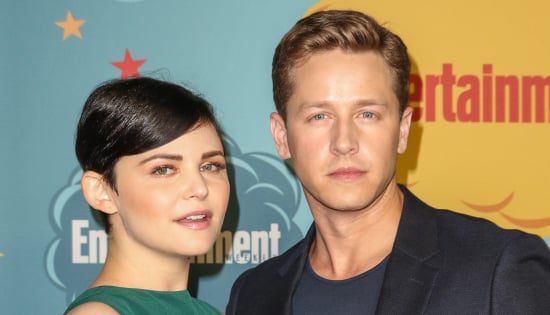 Once Upon a Time star Ginnifer Goodwin is pregnant! She is expecting her first child with fiancé and costar Josh Dallas.
Speaking of fairy tales, Katy Perry channeled her inner princess for her new music video for "Unconditionally."
Channing Tatum did his own version of Jean-Claude Van Damme's epic split, and it's hilarious.
Kim Kardashian isn't the only one of her family to show off her goods — Kim's teenage sister Kendall Jenner created a stir online when she posted a photo of herself in a see-through top from a photo shoot.
Leighton Meester and Adam Brody might be engaged. Cue squeals of joy from The O.C. and Gossip Girl fans.
When Kate Hudson hits the dance floor, she does it with Emmy-winning Dancing With the Stars dance pros.
This should make comedy fans happy: Monty Python is set to reunite for a TV show.
It's hard to impress Kanye West, but David Blaine found a way during his new show, David Blaine: Real or Magic, which aired last night.
Backstreet's Back, and they're shirtless. Not that we're complaining!
George W. Bush showed off his art skills on The Tonight Show last night and talked about President Barack Obama. "I don't think it's good for the country to have a former president criticize his successor," George said. Watch the interview below.

Keep reading for more from today's Speed Read.

George Zimmerman was released from jail yesterday following his domestic violence arrest.
Republican congressman Henry "Trey" Radel has been charged with misdemeanor cocaine possession after a "buy and bust" operation. He is scheduled to appear in court later today.
Former candidate for governor Creigh Deeds is currently in fair condition after being stabbed early Monday morning by his 24-year-old son in Virginia.
At least two have been killed after a Learjet crashed off the coast of Florida on Tuesday night.
Think you saw a real-life Harry Potter walking around Penn Station in NYC? Well, you may have been right.
Your daily dose of cute: A tiny bulldog puppy wearing a red scarf.
While we're at it, this just might be the most adorable Vine ever. Watch below.