"Girl (Who Runs the World)" Song From Beyonce Review
Listen to a Clip From Beyoncé's "Girl (Who Runs the World)" — Gimme More or Got Enough?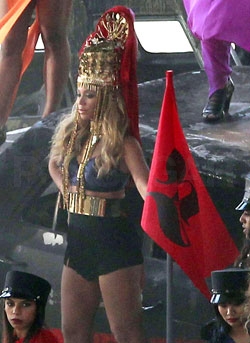 Beyoncé Knowles has been hard at work this week recording the video for her upcoming single "Girl (Who Runs the World)" out near LA. Her time in California meant she's missing out on fun nights with her husband, Jay-Z, and BFF Gwyneth Paltrow, but Beyoncé's all about focusing on the next phase of her career and her new album. A snippet of the first song apparently leaked today, and we have a listen to it below. The track is said to feature a sample from Diplo's Major Lazer and definitely seems to match up with the military theme from her desert set. Check it out and let us know what you think — want to hear more, or is that quite enough?