Gisele Keeps Warm In the Winter Months
Sure it's the beginning of January, but it's never too early to start thinking about swimsuit season. Gisele, of course, being the Victoria's Secret supermodel that she is has to keep herself in shape all year round. She looks stunning in this French Vogue photo shoot, and we bet she looks just as stunning in the swimsuit VS catalog which will be in your mailboxes this weekend. Lucky Gisele got to shoot the whole catalog in St. Barts! Here's more: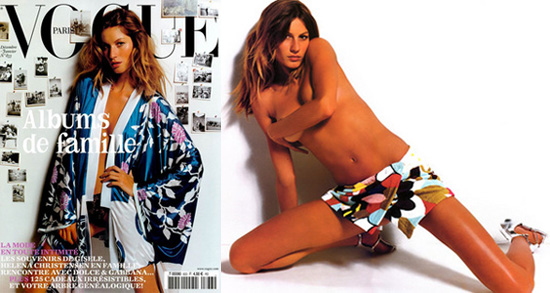 The spring swimwear collection features bright colors along with camouflage and animal prints. You can also shop swim separates: any size, any style, creative minds can mix and match tops and bottoms to create your own bikini!

"St. Barts is beautiful, and it's sunny, and I'm sunbathing -- and shooting at the same time," says Gisele. "We always get to go to beautiful places to shoot the swim book, and that's my favorite part about it."
Sounds nice, as we sit here wrapped in sweaters and scarves. But the last thing I'd want to do is put on a bikini right now especially after all the yummy holiday candy we just ate. To see more of stunning Gisele in Vogue just read more