Golden Globe Winner Christoph Waltz Quotes
Christoph Waltz on Golden Globe Win and Django — "It Was a Wild Ride!"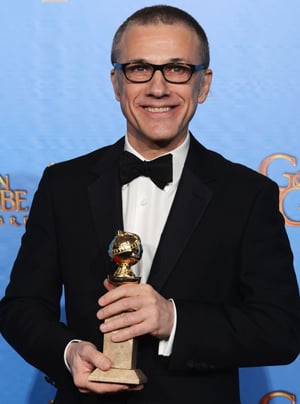 Django Unchained star Christoph Waltz was one of the first winners at this evening's Golden Globe Awards. At the podium, he thanked director Quentin Tarantino effusively, and backstage he was nothing but gracious. Check out his quotes:
How do you feel with this win? "Pretty good, I should say. I don't expect anything. I didn't expect this, either. When my name was called, my knees gave. It's unbelievable. [Working with Quentin] was a wild ride, a very wild ride. It was fantastic."
What was the hardest part of shooting Django? "Well, you know, riding the horse wasn't the challenge — getting off was. But I'm OK."
What do you do every day that keeps you grounded? "I get out of bed and I put my feet on the ground, and then for the rest of the day, I try to stay there."
What did you learn about the slavery message? "I learn something from everything I do. What you don't know, you have to find out. That's the valuable aspect to preparing for a part. Did I learn something? Absolutely, I found out this problem, which is still a problem, is still alive in the minds and heads of people of America. I thought it was as historical as it was for me."
On his favorite Django scene: "There's a favorite scene almost every other minute. It depends on for what: My favorite romantic scene is with Kerry [Washington]. My favorite action scene is when I have to jump off the horse. The favorite ending is when Jamie [Foxx] does this wonderful dressage. The whole movie is full of favorite scenes."
On the Django controversy: "If you choose a controversial subject, you better be ready for a controversial reaction. I think more movies should be that way."