Government Shutdown Videos and Memes
The Best Reactions to the Government Shutdown
Just a few days into the US government shutdown, the Internet, newspapers, and comedians have inevitably responded with some funny and snarky tweets, videos, and pictures that have already gone viral. While some wonder whether Congress is just in mourning over the Breaking Bad series finale, others believe the shutdown is cause for another Miley Cyrus parody. Even Britney Spears has some words for Congress: #WorkBxxCH. From today's newspaper covers to The Daily Show's bit to comedians sharing their funny takes on Twitter, check out the Internet buzz in the wake of the government shutdown.
Britney Spears Tells Congress to #WorkBxxCH
Go call the po-lice, Go Call The Gu-vunah! Someone tell Congress to get to #WorkBxxCH

— Britney Spears (@britneyspears) October 2, 2013
Following the premiere of her new "Work B**th" music video, Britney Spears took to Twitter to tell Congress to get back to work.
The NY Daily News Cover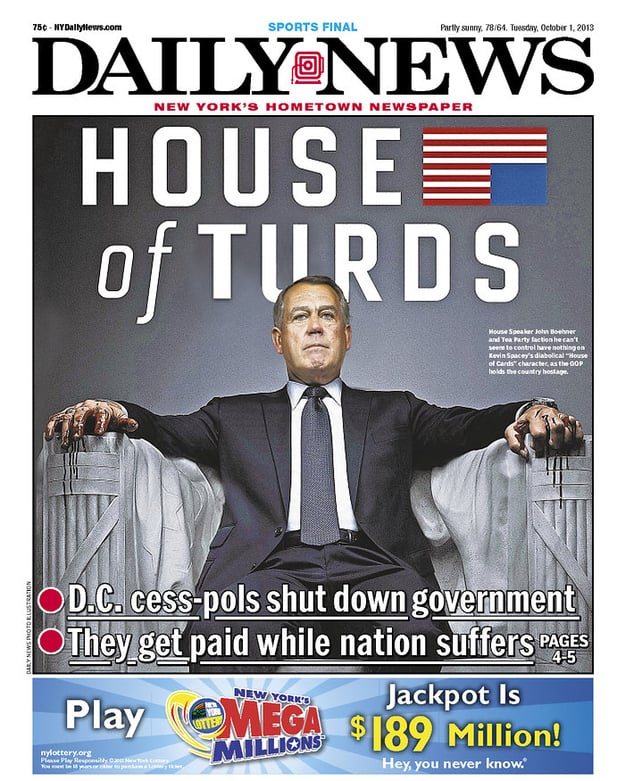 On Tuesday morning, the cover of the New York Daily News went viral. With a "House of Turds" headline, an upside-down American flag, and John Boehner replacing Kevin Spacey with his hands red and bloody on the Lincoln Memorial, the image created a buzz of its own. It's a perfectly absurd play on Netflix's House of Cards.
John Boehner in "Wrecking Ball"
It was only a matter of time before the shutdown got the Miley Cyrus parody treatment.
Keep reading for more Internet reactions to the government shutdown.
Jon Stewart

's Take

On The Daily Show, Jon Stewart turned to sports analogies for his take on the government shutdown, and his football-related rant quickly went viral: "Did you see the Giants game on Sunday? They lost 31-7. Do you know what the Giants didn't say after that game? 'If you don't give us 25 more points by midnight on Monday, we will shut down the f**king NFL.'"
An Emoji Interpretation
The government #shutdown, in Emoji pic.twitter.com/ZUkJPV3aUA

— USA TODAY (@USATODAY) October 1, 2013
USA Today took to Twitter to tell the story of the government shutdown — in emojis.
More Celebrity Tweets
Now that the government is shut down, what time do you guys want to go loot Costco?

— Michael Ian Black (@michaelianblack) October 1, 2013
Wow, congress isn't taking the end of "Breaking Bad" very well at all.

— Jim Gaffigan (@JimGaffigan) October 1, 2013
My favorite episode of Friends is on tonight "The One Where The Government Shuts Down" #Phoebe

— max greenfield (@iamgreenfield) October 1, 2013
Hey guys - I'm about to shut the government down on the west coast so if you need anything, ask MexiCanada

— Jimmy Kimmel (@jimmykimmel) October 1, 2013
You can shut down the government, but you can't shut down my Twitter fe

— Patton Oswalt (@pattonoswalt) September 30, 2013
Kevin Costner just delivered my mail by horse.

— Jonah Ray Donovan (@jonahray) October 1, 2013
Weirdly, I feel more at ease with the Governement shut down.

— kelly oxford (@kellyoxford) October 1, 2013
The Colbert Report's Celebration
On The Colbert Report, Stephen Colbert counted down to the shutdown with a segment called "Rockin' Government Shutdown Eve." Sigh.