Guy Ritchie Calls Madonna Retarded, Says He Loves Her For Esquire
Guy Ritchie Still Loves Madonna, but Thinks She's "Retarded" — Interesting or Over It?
It's been almost exactly a year since Guy Ritchie and Madonna split and he recently talked about his ex wife during an interview with Esquire. Last week, Madonna called her marriage "the Bush years" and made jokes about all her subsequent romances.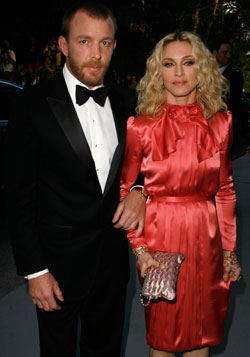 Guy's been comparatively quiet about their divorce, but he opened up about his mixed feelings towards Madonna, revealing the fiercely competitive nature that drives her. He describes her saying:
"She's a manifester, if there ever was one. First-rate manifester. Madonna makes things happen. Put Madonna up against any twenty-three-year-old, she'll outwork them, outdance them, outperform them. The woman is broad. And, of course, here you go: I still love her. But she's retarded, too."
So what do you think about hearing what Guy has to say about Madonna — interesting or are you over it?