The Guys Hog All the Popcorn at the MTV Movie Awards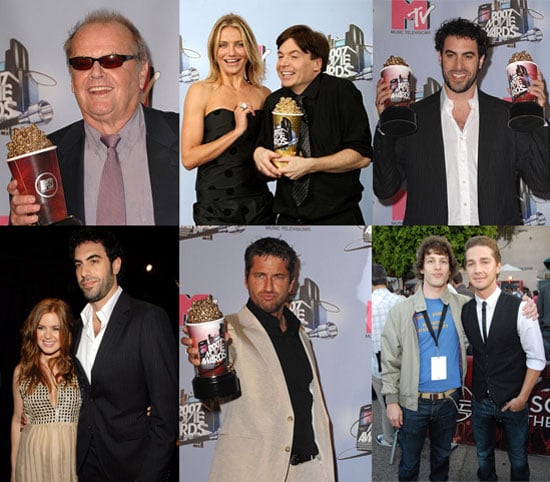 0
The Guys Hog All the Popcorn at the MTV Movie Awards
The ladies rocked the red carpet but it was all about the men last night at the MTV Movie Awards (seriously, not one woman won an award!) Will Ferrell and Sacha Baron Cohen won for best kiss, and even gave the audience the live version on stage. Mike Myers received the MTV Generation Award for being an all around funny guy and Jack Nicholson took home for best villain. To check out the rest of the big winners just click here. As for the backstage action, Baby Borat rumors continue to swirl as cute Isla wore another loose dress, Shia and Andy shared a few laughs and Gerard Butler proudly showed off his popcorn to the crowd.
Congrats to all the men but boo that no ladies won. Perhaps this is why they had to have Sarah Silverman as the host. For more pics of the press room and backstage including Adam Sandler, Tyrese Gibson, Josh Duhamel, Jessica Alba and more just
Images include Shia LaBeouf, Heidi Montag, Spencer Pratt, Tyrese Gibson, Josh Duhamel, Sacha Baron Cohen, Cameron Diaz, Mike Meyers, Gerard Butler, Jack Nicholson, Dane Cook, Ioan Gruffudd, Chris Evans, Jessica Alba, Adam Sandler, Will Ferrell, and Michael Chiklis.