Gwen Stefani Covers Elle Magazine: Baby Weight, Staying in Shape, and More
Start Slideshow
ADVERTISEMENT ()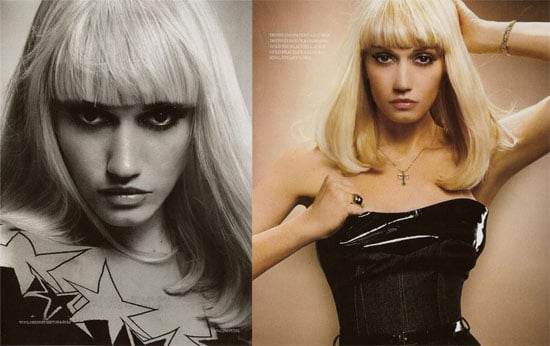 0
Gwen Stefani Covers Elle Magazine: Baby Weight, Staying in Shape, and More
Gwen continues to wear a wig for her latest Elle cover. She may be considered a fashion icon and sex symbol now but apparently things weren't always that way for Stefani. She admits to struggling with her weight and even says she was chubby as a child. Here's highlights:
On her baby weight:
"I worked out with my trainer throughout my whole pregnancy until about two weeks before. I cried during my last session. I was like, 'I can't breathe, I can't do this anymore. What am I doing?' It was crazy. All my life I had to work hard to stay in shape. I've always struggled with it. I was a little chubby when I was younger, and I didn't want to be that person forever. I became a swimmer at school -- but only because I wanted to be skinner! I'm extremely vain. I like wearing cute clothes."
On getting her figure back post-pregnancy:
"There aren't any tricks, it's simple math: you put this much food in, you burn that much working out. I gave myself three months -- but if I didn't have an album coming out, there's no way I would have gotten back into shape in that time. I worked out with my trainer five days a week, with weekends off. I would really recommend doing weights. I'm not into yoga and Pilates -- they don't work for me and I don't have the patience. I'm more like a man, I like going to the gym and lifting weights or doing a little boxing."
At least she admits she is vain. Having a trainer and probably a private chef also helps. The best part of the article is when she mentions that Kingston is "the most romantic thing" she and Gavin have done. Their adorable son certainly has been the reason we have been most interested in Gwen lately. For more pics of glam Gwen just