Gwen Stefani in V Magazine
Gwen's a Gushing Mom
Gwen Stefani looks fierce with a smoldering stare in the March issue of V Magazine. Aside from the red lips, this is hardly the mom we've gotten used to seeing, but it's always fun to squeeze in one last photoshoot before that baby bump starts showing. In the article, Gwen sounds like a regular mom getting emotional when talking about Kingston. She said,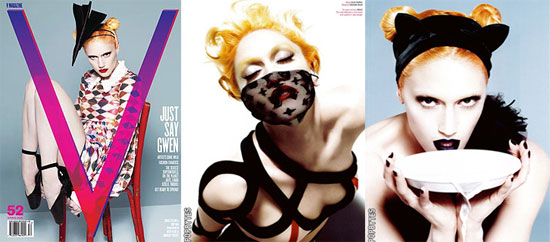 "I'm gonna start crying when I talk about this because it's just so ... it's so intense. I put him to sleep at night and, you know, I'll be rocking him to sleep and he'll be playing with my hair and ... it's just the most amazing feeling in the world."
Aww, it sounds like Gwen is still a big softie on the inside even though she's looking like a fierce fashionista on the outside. Kingston has always been one of our favorite celebrity babies, and we can't wait until Gwen has two little ones to gush over. Check out popbytes to see the rest of the photos from the spread!