Gwyneth's New Nightmare Diet
Gwyneth's New Nightmare Diet
Gwyneth is known for following a strict macrobiotic diet, but now she's taking extreme measures to lose her post Moses weight. We think Gwyneth already looks great but apparently she's wearing corsets and wants out. Her new diet plan is the 8 week Get Gwyn Thin plan created by Dr. Nish Joshi which sounds like a total nightmare. Basically, she can't eat anything. Here's more: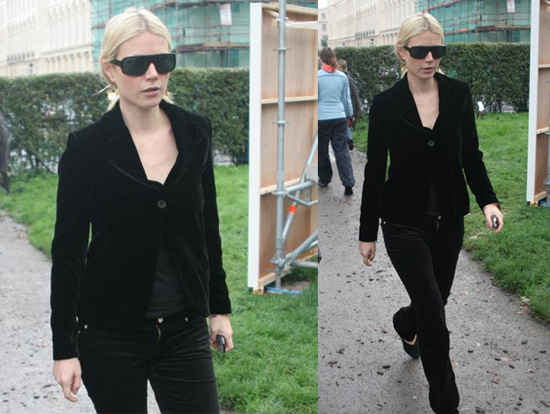 "Dr Joshi has listed everything she can and cannot have in order to get back to her pre-baby physique — and it's scary. Gwyneth has been wearing corsets to make her appear slightly thinner but she can't wait to bin them when the diet is finished."

Gwyn is BANNED from wheat, dairy products, sugar, gluten, booze and red meat. She is allowed turkey, chicken and white fish but NO swordfish. Veg is OK but she can have NO tomatoes, peppers or other fruits, except for bananas. She is also taking various herbal supplements to flush out toxins and undergoes regular reflexology and cupping sessions and a rather unpleasant series of colonics. In case you're interested, Dr Joshi, who is based in London's famous Wimpole Street, charges £750 for the detox diet and, er, accompanying procedures.
This diet sounds nuts! Life without sugar is just not worth it. Guess this means she has to calm down her late nights with Beyonce and Jay-Z. We can't wait to see if this diet really does work, but since she pairs it with her routine workouts we bet Gwyneth will lose the weight she wants. Let's just hope she doesn't go overboard.
Lots more pics of an already skinny Gwyneth so read more