Gwyneth Paltrow Drunk Dinner Recording
Gwyneth Paltrow's Tipsy Quotes on "Furious" Kanye, Bikini Waxes With Cameron, and More!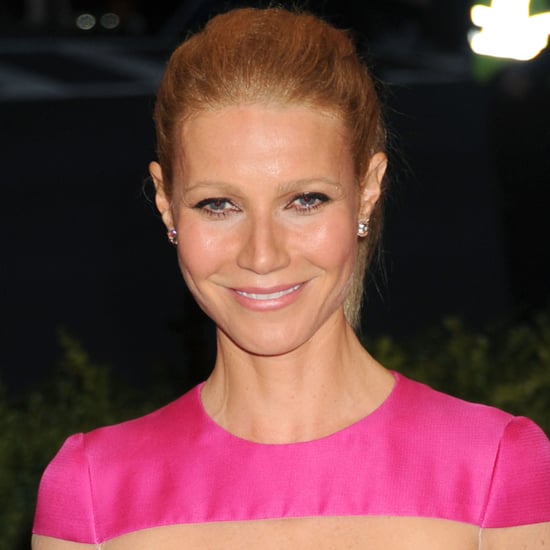 Gwyneth Paltrow has a few opinions on the Met Gala, Kanye West, bikini waxing with Cameron Diaz, and meeting Psy — and she's not afraid to share them with a couple lucky auction winners! Gwyneth shared her thoughts on everything from the Met Gala to bikini waxes this week during a dinner with Australian radio personalities in NYC. The hosts of The Kyle and Jackie O Show bid on a dinner with Gwyneth and decided to bring along a tape recorder for the event. When they showed up, Gwyneth was already a martini in and ready to open up. Here are some of the best lines from Gwyneth, who seems like she'd be an entertaining dinner companion!
On being drunk before dinner: "I am drunk already. I am. A martini went straight to my head and now wine. With no food. So just watch out."
On how much it probably cost to win a dinner with her: "How much did it cost. 7 pounds?"
On the bread basket: "I had like four pieces and on my fifth piece, I was like 'f*ck this' and threw it back in the basket."
On the Met Gala: "Like you always think, 'Oh my god. This is going to be so glamorous and amazing and you're going to see all these people.' And then you get there, and it's so hot. It's so crowded. Everyone's pushing you. This year it was really intense. It wasn't fun."
On Kanye West: "Kanye West was playing. And he was furious. And he threw his microphone down. It was all drama!"
On the Met Gala punk theme: "I feel like we're all a bit old to be trying to dress punk."
On meeting Psy: "We're at the Met Ball. Our son is obsessed with him. So Chris sees him, and he's like 'Oh my god, there's Psy.' I was like, wait — 'cause I thought it was P-S-Y. I was like, who's Psy?"
On shaving: "I said, 'No, I got a big '70s bush.' Which I was kidding. But then it was all a disaster. And now I look like an 8-year-old girl, basically."
On bikini waxes: "Every time I have a bikini wax, Cameron Diaz holds me down."
On making a toast: "Cheers to our hairless vaginas!"
Listen to the whole thing below! It starts about three minutes in.