Gwyneth Paltrow Interview
Gwyneth Paltrow Shares Her City Guides: "I Do Ride the Subway!"
Gwyneth Paltrow looked flawless the evening after the Met Gala. There was evidently no early morning carousing and certainly no hangover for Gwyneth and her husband, Chris Martin, who skipped the Met Gala red carpet to meet up with Gwyneth and their friends inside. The best part of the night for Gwyneth? "Going home and taking my shoes off!"
People's Most Beautiful Woman of 2013 was in a conference room at NYC's SoHo Apple store Tuesday to talk tech, specifically her updated Goop City Guide travel app. The refurbished version offers Gwyneth's tips to living and traveling well in London, New York, and LA, three cities she's spent considerable time in over her 40 years.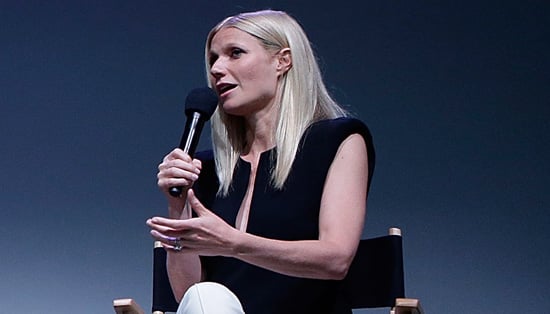 "I do ride the subway!" Gwyneth's favorites in her home city of New York are surprisingly down to earth. "I'm not in New York as much as I used to be, so I ride the subway in London all the time. The last time I rode the subway in New York was a year and a half ago, and the tube in London — last week."
When she's in the Big Apple, there is one place she makes sure to visit. And it doesn't sell clothes. "Murray's Cheese Shop!" she said. "That store is my heaven. I love it. I'm obsessed with it. I go every time I'm in New York. . . . They're like, 'Where's the stinkiest cheese we have? She's here!'"
Gwyneth now spends most of her time in London with Chris and their kids, 8-year-old Apple and 7-year-old Moses. The last month, though, has seen Gwyneth all over the world premiering Iron Man 3 and promoting her book It's All Good. Those jobs, on top of raising a family and keeping up a glamorous social schedule, would seem to have taken her attention away from Goop.
One could probably get hints about finding "balance" between work and family in an old issue of Goop. But finding the hours in a day to work on everything requires serious planning for Gwyneth. "When I'm at home in London, I have a regimented day," she said. "I get up with the kids, I take them to school, then I have an hour to catch up on emails from LA, then I exercise. Then until I pick them up at 3 p.m., I work on Goop. I have a good three hours to just focus on it, to write, to research, to brainstorm, to have meetings, talk about products and collaborations. It's my day job."
Her 10 years in London have rubbed off in other ways, too. "I am a royal fan!" she said. "I like that in the English culture that they have figures, cultural figures that aren't elected and that they've been there for a long time and it's this sort of, it's a specific cultural thing, and having lived there for so long, I understand it a lot better now. I love the royal family. I think it's a really nice part of the culture."
Gwyneth shared even more of her travel tips during her Meet the Developer chat, which was moderated by her friend Jessica Seinfeld. Gwyneth's Goop City Guide is available now in the iTunes store for $4.
Plus, find out more about Gwyneth's online shopping habits at POPSUGAR Fashion!