H'Wood's Most Athletic Starlets Vie for JT's Attention
H'Wood's Most Athletic Starlets Vie for JT's Attention
Well, it's official: Justin's going to be the one getting the post break-up positive spin. It's always one of them, right? At the InStyle Golden Globes after party something went down between former lovebirds JT and Cameron, and as the tabs are spinning it, Cammie's the crazy jealous one. Perhaps that's because of the company Justin's been keeping, and this time it's Jessica "The Body" Biel. As Page Six reports: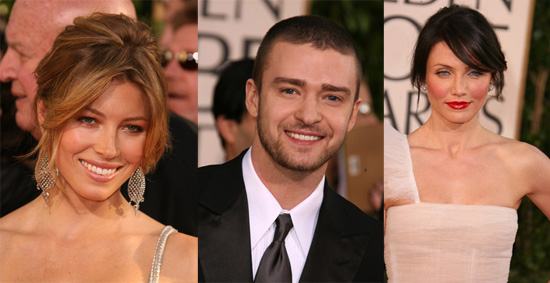 Sources say the temperamental star "blew up" at Biel after she saw Timberlake flirting with her. Diaz followed Timberlake to the In Style party at the Hilton Oasis, where "they had an awkward conversation." The "Charlie's Angels" star then trailed Timberlake to the Beverly Hilton rooftop for the Universal party, where she found him chatting up Biel - and screamed at the "Illusionist" star.
Ahhh, that's what a little champagne can do to a girl. According to People, the spat didn't end there; Cameron also had a little heart to heart with JT himself that ended with him slamming his fist into a cabinet (no word as to why there was a cabinet at the party in the first place). In the end, though, there's probably not love in the air for JT and Jessica (although they would be pretty hot together), as Biel is still flexing her love muscles with Derek Jeter.