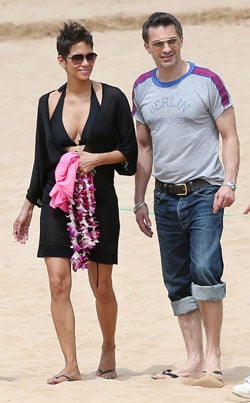 Halle Berry is pregnant with her second child, reports TMZ. According to the story, Halle is three months along with a baby boy with fiancé Olivier Martinez. People magazine also has sources who have confirmed the news, adding that they will be expecting the child in the Fall.
Halle already has one child, daughter Nahla, with ex-boyfriend Gabriel Aubry. Halle and Olivier met on the set of Dark Tide in 2010 and got engaged last year. The family of three recently went on an Easter vacation to Hawaii, where Halle kept her black bikini covered up and Olivier and Nahla played in the sand.
Congratulations to Halle and Olivier on the happy news!