Will Has Costars and Fresh Friends to Premiere Seven Pounds
Will Smith usually has his real life family by his side on the red carpet, but last night at the Seven Pounds premiere in LA he was joined by his former on screen relatives. Alfonso Ribeiro and Tatyana Ali who co-starred with Will on The Fresh Prince of Bel Air, smiled big out to support the big star. Will wasn't the only of the movie's stars out to celebrate — Rosario Dawson looked sexy in her hot little dress, but unfortunately Tom Cruise didn't bring his son Connor out for his first big acting premiere. The movie hits theaters this Friday and while the trailer is still a bit cryptic it looks like one of our favorite male stars of the year, Will, gives another memorable performance.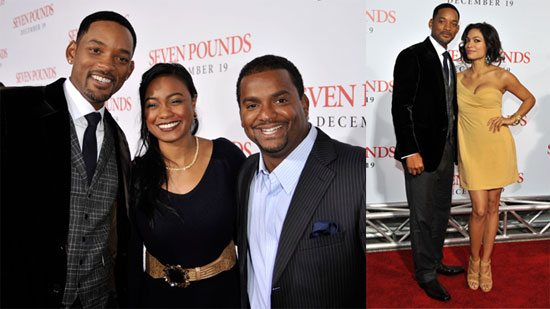 To see more from the premiere including Gabrielle Union, Woody Harrelson, Tyrese Gibson and others just read more.
Images include: Alfonso Ribeiro, Will Smith, Rosario Dawson, Gabrielle Union, Tyrese Gibson, Tatyana Ali, Woody Harrelson