Heather Still Wants a Rock Star
Last year was not a good one for Heather Locklear, what with her husband taking up with her best friend Denise (sorry, that's former best friend). Now there's rumors that Denise and Richie are going to tie the knot in a romantic Italian ceremony! But that hasn't made her bitter. She says she's doing good, and despite marrying and divorcing two musicians (remember her and Tommy Lee?) she says she's still totally into rock stars. Here's more: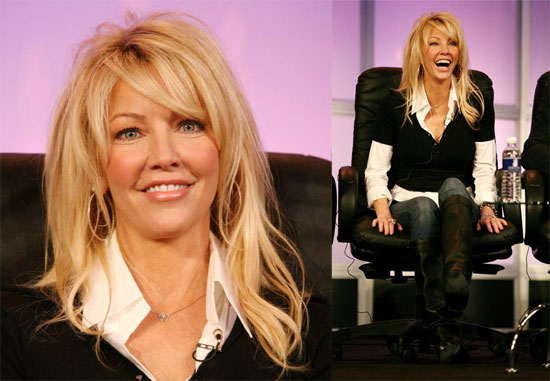 "I still like rock stars," she said Thursday at the annual TV critics conference in Pasadena, Calif. "Any man is good for me (just) not married men."

But right now there is no special someone – musician or not – in her life, according to the star.

"I'm single," she confirmed, though she has been linked to comedian David Spade. Just last month the pair were spotted in Honolulu, where they took in the final show on U2's Vertigo world tour.
Love that she said she wouldn't go after married men. You know that one was just for Denise. Still, it's kind of weird that Heather is denying that she and David are together. Is she embarrassed of him or something or is she just hoping another rock star will come along? Either way she seems to be handling the Richie/Denise thing pretty well. More pics of Heather so just read more