Heidi Klum's LA Confidential Cover and Quotes from Interview
Heidi Confidentially Talks About Taking Off Her Clothes
Heidi Klum bundled up for the cover of September's LA Confidential. We finally have Project Runway back on TV — plus, Buzz's PR Bracket is down to the final four — and Heidi's plugging away for her show. She jokes that she likes Lifetime because they fed her donuts, and says maybe they should film on the beach so she can wear a bikini. Here's more: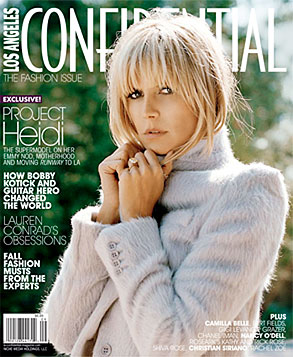 On Project Runway's move to LA: "People will ask us, 'Why L.A.? L.A. isn't a fashion capital.' But if you look at the history of American fashion, it started in Hollywood with designers making gowns for all the starlets. Sometimes I joke with Tim [Gunn] that we should do Project Runway on an island. 'Here's 15 minutes, now go into the bushes and find whatever you can and make an outfit.' I picture Michael [Kors] and me, super tan in our director's chairs and me in a bikini saying, 'Welcome to the runway!'"
On cohosting the Emmys last year: "Man, we got so beaten over the head for that! It's not like the four boys and I wrote it. You get hired to do it, they give you a script and you learn your lines. If I could have, I would have done the whole thing in German, with subtitles—everyone in dirndls and on swings and milking cows. Each nominee would have had to ride in on a big cow and milk it."
To see what Heidi had to say about her new coffee-table book which comes out in October just
.
On her upcoming coffee-table book, Rankin's Heidilicious: "It's very naughty. I've been shooting with this photographer, Rankin, for seven years, and working with him is fun because he always makes me look different. And he always gets me to take my clothes off for some reason. We'll do some job, and then he'll say, 'Why don't we shoot some more things,' and I'll wind up without anything on."