Heidi Says Seal Has Enough Awards
Heidi was one of the many stars who stopped by the InStyle Luxury Suites at the Four Seasons for some swagilicious stuff this weekend. Heidi seemed to have her mind more on her husband Seal than she did on the swag she was getting, and she had a few things to clear up about their trip to Aspen over the holidays and his GG nom. Here's more: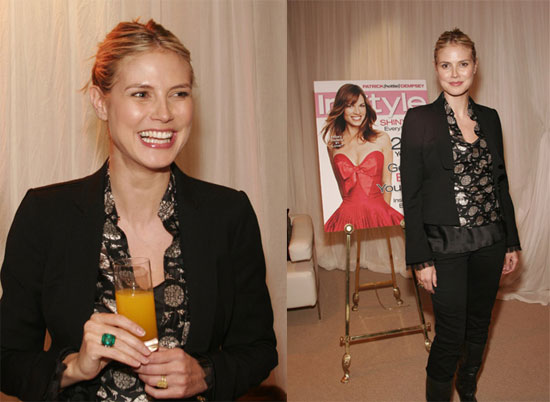 Heidi Klum told [Gatecrasher's Ben Widdicombe] she didn't join her snowboarding husband, Seal, on the slopes during the family's just-completed vacation in Aspen. "I just had a baby [Johan] six weeks ago; I was pushing the stroller," she joked.

Seal is nominated for best original song tonight for his contribution to "The Pursuit of Happyness." "He doesn't need me to wish him luck," she said at the InStyle Luxury Suites. "We have 10 statues at home lined up in a row. He has his Grammys, and we both have a Bambi [German music award]. ... You put them together and they breed."
Oh well it looks like Seal didn't win since Prince did, but it looks like they don't care so much about more awards. As for Heidi, she looks amazing already post her third baby. Check out how to get Heid's post baby body and for more pics of Heidi, Joy Lauren, Kristen Bell, Eric Mabius, and Katharine McPhee read more