Heidi and Seal Talk Love & Might Sing About It Too
Heidi and Seal Talk Love & Might Sing About It Too
It seems like Heidi and Seal do everything together these days from grocery shopping to shooting commercials but their partnership doesn't even end there. Apparently Heidi might be joining her husband for a little duet at the annual Victoria's Secret Fashion Show on December 4. Obviously these two can't get enough of each other, and they even open up about their relationship on Oprah together on an episode that airs tomorrow. Here's more: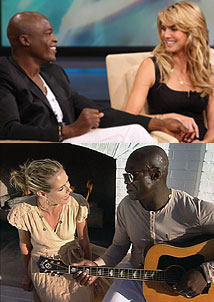 Heidi: "I met him in a hotel lobby in New York City and he came in just from the gym and I was sitting there and I was, like, wow. And I pretty much saw everything. The whole package."
Seal: "The most common hiccup," says Seal, is when the first child comes along. "And it turns into all about the kids, which is understandable because they're miraculous. But then you've got to put each other first. You know, she will always be number one for me."
Can't say we're all that surprised that Heidi was interested in Seal's package since we know how much these two love their naked time. That said, it's always nice to hear about Hollywood couples that enjoy each other's company as much as Heidi and Seal do.