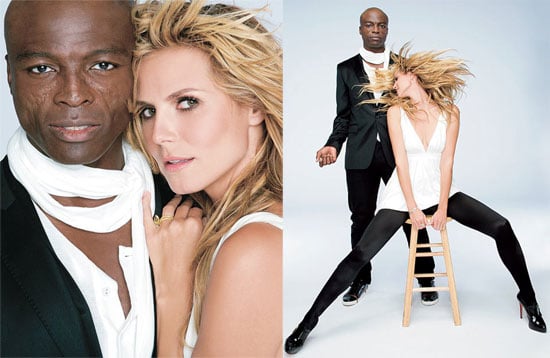 0
Heidi and Seal Work It for the Cameras
Heidi Klum and Seal prove to be quite the photogenic couple with yet another sexy husband/wife photoshoot, but what can you expect from a model who has her own makeup line? Their passion for each other is pretty clear in these photos, but we all know how open they are to dishing on the subject of one another. The couple gave the Daily Mail a closer look into their relationship and private life. Here are highlights:
Seal on his love at first sight:
"She had this amazing dress on, this black, almost see-through dress, and this huge smile on her face," he says. "I remember thinking, 'Wow, whoever goes out with that girl is one lucky guy…'"
Seal on his wife's famous body:
"Our youngest child is now 11 months old, so I've told Heidi we're booting him out of the bedroom. I'm not having it any more. This is the longest time I've known Heidi without her being pregnant. She's got her body back and it's real good fun!"

We love that Heidi and Seal enjoy talking about each other so much even if some times it's too much info. We're even more excited to hear about how these two plan to keep working together including their upcoming duet at the big Victoria's Secret Fashion Show next month.