Hilary kicked off the new year by getting a star on the Hollywood Walk of Fame. It's quite an accomplishment for the girl who slept in a car with her mom when she first came to Hollywood. She says that's partly the reason she was attracted to her new film Freedom Writers. In this true story, she plays a teacher named Erin Gruwell who helps inner city kids realize a potential others had given up on. Hilary was so inspired by the film that she also signed on as Executive Producer. Here's more: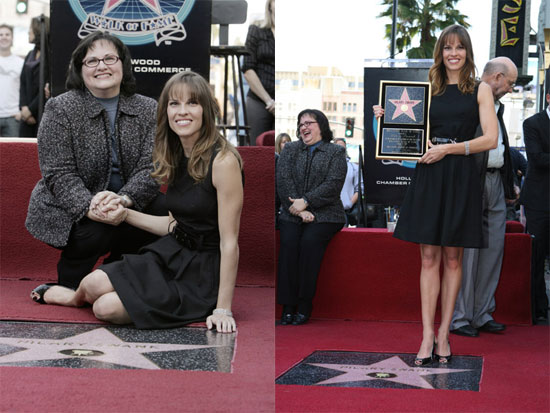 "This is one of those stories that you read and you just get so inspired and it's something that you feel has to be brought to the screen," Swank said of Gruwell's story. "Erin is such a force of nature, she's done so many things for these kids, she's given them a fighting chance."

Gruwell's selflessness reminded Swank of her own mother's faith in her dream. When Swank expressed an interest in acting, her mom moved her and their family from Washington state to Los Angeles with little more than $100 and a car.

The actress attributes her success to her mom's dedication.

"That's what this movie is to me — the power of one person who believes in you and that can change your life," Swank said.
Hilary obviously hasn't forgotten about the one person who believed in her. Her mom Judy was right by her side as she was honored with her star. For more pics just read more