Hilary Gets Out on Her Own
Hilary and her mom Judy look like they had a lot to laugh about the other day while lunching in Santa Monica. Hilary seems to be in good spirits. Wonder if it has anything to do with the fact that she received a star on the Hollywood Walk of Fame this week. Things are definitely looking up from when she and Chad split last summer but she still doesn't have all the logistics worked out - like a place to live. Here's more: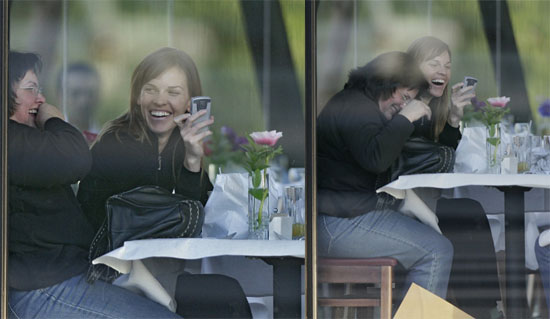 "I've never lived alone before, ever," the double Oscar winner, now starring in Freedom Writers, tells InStyle in its February issue. She also says she doesn't have a permanent address and is hunting for a new home.

"I went from living with my mom right to living with Chad," says Swank, 32. "Now with traveling a lot and not staying any place for long, I have a box filled with floating receipts, makeup I'll never wear, random dog toys and a stack of greeting cards I pick out for friends, which inevitably end up in some storage unit."
But that doesn't mean she's all alone. She's reportedly dating her agent John Campisi who was on the sidelines this week snapping pictures of her when she received her star. Plus, she seems to be taking pretty good care of herself this far! For more pics just read more