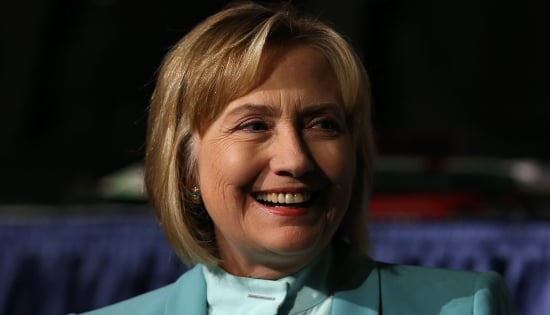 We just reelected President Barack Obama last year, but the world is already looking ahead to 2016 and asking: will Hillary Clinton be running for president? She's never confirmed the possibility, but there's plenty of buzz about the former first lady. This week, that buzz grew even louder when Anthony Weiner practically confirmed Hillary's 2016 campaign and the Republican National Committee released an ad in protest of upcoming TV specials about her life. Of course, until Hillary makes an announcement, it's all speculation, but at this point, there are more than a few signs pointing to her future run for presidency. From her family's comments to her Twitter presence, take a look at seven hints at Hillary's 2016 plans:
There's a Lot of Talk That She's Healthy, Really!
Both Bill and Chelsea Clinton have commented on Hillary's good health in the media lately, perhaps as a strategic move to dismiss any opponents' attacks that she may be an older or less healthy candidate. She will turn 69 in 2016, and back in late 2012, she was admitted to the hospital to treat a blood clot in her head. Since then, her family's made it clear that she's fully recovered.
In January, Bill joked that he was just Hillary's first husband, saying, "She's still got time to have three more husbands after me. I think she'll live to be 120." Around the same time, Chelsea appeared on the Today show and echoed her dad's sentiments. "She is exuding the energy, the vibrancy, and certainly the mental acuity that she always has. I'm so grateful that she is not only fine, but healthy and vibrant and strong and, God willing, will be for the next 65 years of her life."
Political Insiders Are All but Confirming It
During Weiner's interview with BuzzFeed on Aug. 12, he indicated that his wife, Huma Abedin — a longtime Clinton aide — would play a role in Hillary's potential 2016 presidential campaign. Asked whether he knew what his wife's role would be in her bid, Weiner said, "I do. I'm not telling you."
In early 2013, during the Benghazi hearings, she also received a stamp of approval from Democratic Representative Eni Faleomavaega Jr., who said, "I salute you, and I look ahead to 2016, wishing you much success and extending to you my highest regards." Hillary's response? She shook her head and laughed — but didn't deny anything.
She Even Dropped a Huge Hint
While speaking at a conference in Toronto in June, Hillary said she hopes to have a female president in her lifetime, adding, "Our country has to take a leap of faith. . . . I hope that we will see a woman elected, because I think it would send exactly the right historical signal to girls, women, as well as boys and men. And I will certainly vote for the right woman to be president."
Keep reading for more signs that Hillary will run for president.
She Is All Over Social Media and Good at It
In early June, Hillary made headlines when she joined Twitter, and her Twitter bio definitely showed off her sense of humor. Her picture is the snapshot of her texting on her cell phone, made famous thanks to the Texts From Hillary Clinton Tumblr. In her bio, Hillary also keeps things lighthearted by calling herself "wife, mom, lawyer, women and kids advocate, FLOAR, FLOTUS, US Senator, SecState, author, dog owner, hair icon, pantsuit aficionado, glass ceiling cracker, TBD…" — and it was the "TBD" heard around the world. Will "presidential candidate" be the next role on her very long list?
Hillary has mostly used the social media platform to share information about her charity efforts and her insights on political issues, but followers also get to see a more personal side to the politician. In June, Hillary retweeted a selfie taken by her daughter, Chelsea, and she recently congratulated Prince William and Kate Middleton on their new addition, saying, "It takes a (royal) village!"
Congratulations from across the pond to the Duke and Duchess! Wishing you the best of luck and a bit of advice: It Takes a (Royal) Village!

— Hillary Clinton (@HillaryClinton) July 23, 2013
Her Retirement Is Very Strategic
On Feb. 1, after two decades in politics, Hillary resigned from her position as secretary of state, saying that she wanted some time to "relax." She left her post with high ratings, and it may have been a strategic move — had Hillary not resigned, she would've faced fundraising restrictions as a presidential candidate.
Since stepping down, Hillary has entered into the speaking circuit, making appearances in cities like Dallas, LA, Chicago, and more. Perhaps a sign of early campaigning? When she accepted the A.B.A. Medal from the American Bar Association on Aug. 12, Hillary announced that she'll be making a series of speeches this Fall about the policies and issues facing Washington. She also touched on the issue of voting rights, which she'd have a truly vested interest in should she run in 2016.
All the Behind-the-Scenes Infrastructure Is in Place
In March, The New York Times reported on Hillary's "transition office," a space in DC that's staffed by about six people. It left potential supporters and opponents wondering which role, exactly, she'd be transitioning to next. Should Hillary's next move be a presidential bid, she already has lots of support. A Super PAC has been set up — Ready For Hillary — and the grassroots movement has gained more than half a million supporters since two volunteers established the group in January. To encourage Hillary to run — and voters to support her — the group is sending out a variety of promotional items, like iPhone buttons, bumper stickers, T-shirts, and hats.
Famous Democrats are also lining up behind Hillary — Vogue's Anna Wintour voiced her support for Hillary when Oscar de la Renta's designs were on display at Bill's presidential library in early July. At the Arkansas event, Wintour said, "It's anyone's guess what the next chapter will be for this extraordinary woman. I can only hope that all of you here in Little Rock will be celebrating her come November 2016."
The Media Is All Over Her
Every presidential candidate needs media attention, and Hillary's story will soon be hitting the small screen on multiple networks, which is basically free advertising. In July, CNN Films announced that it's working on a feature-length film that will dive into both her personal and professional lives. NBC will also be highlighting the former first lady with a four-hour miniseries called Hillary, which will star Diane Lane and cover the politician's life from 1998 to present. Following news of the networks' specials, the Republican National Committee threatened not to partner with CNN or NBC unless they canceled their Hillary-related programming. The RNC also released an ad to oppose the TV coverage, which you can watch below: