Hilton Parents Love Themselves Some Benji, Just Like Paris
Start Slideshow
ADVERTISEMENT ()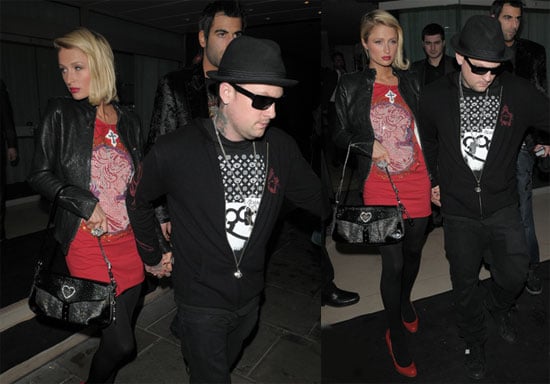 0
Hilton Parents Love Themselves Some Benji, Just Like Paris
Paris and Benji were black and white and red all over out in London last night. Paris may not have been beaming, but she has to be happy with the flip in her hair, right? As usual, the duo was attached at the hand making their way through the paparazzi. We all know how smitten Paris is with her new boyfriend and it sounds like her parents are equally impressed. They recently said:
Rick: "He's the perfect example of 'don't judge a book by its cover...He's polite, well-mannered—even calls me sir! We love him like family already. Benji doesn't drink, doesn't smoke and is a healthy vegan!"
While Kathy chimed in: "He's changed her life—and I really think she's genuinely in love for the first time. He's so good to her and for her. We couldn't be happier for them. This has honestly become the real thing."
Considering some of the guys Paris has brought home in the past, I can't blame the Hiltons for being relieved. Those Madden boys may look kinda hardcore, but they do seem like sweethearts in the end.