Homeland made a repeat win for best dramatic TV series, and the team made their way back to the Golden Globe Awards press room to celebrate their accomplishment. Damien Lewis was a late arrival and Claire Danes — also a nominee on her own — stuck to her seat. The cast chatted about some of their more controversial scenes and what is next for season three: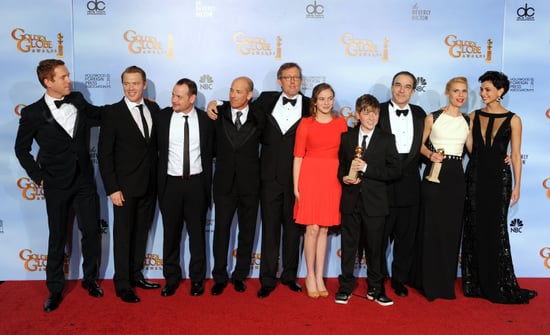 On dealing with the Zero Dark Thirty backlash and how that affects Homeland: "We've not come into scrutiny and we have not dealt with the torture issue. Our contacts have been zero dark 30 since the finale."
How tailor-made was the casting? "It absolutely was tailor-made. When we sat down to write the show, we called her Claire. It was one happy accident after another and we are very grateful."
Damien Lewis on being a Brit playing his American character: "I feel extremely lucky. There are a lot of unbelievably talented American actors who could do it justice. It's really a technical issue. Rhythm is more important than actual correct vowel sounds. It's a much flatter sound, the American accent. Once I found that, I felt much more comfortable."
Damien on filming the torture scene: "It actually was a gift. A dancer turned director was in charge and she allowed it to run like a piece of theater. Coming from theater, that was the best and most productive way to work. We were running takes that would last 20-25 minutes long. It was like the theater. That is probably why it has come out as richly as it has."
How does winning this compare with winning last year: "If we were panicked after the first season's success, we are utterly terrified for season three."