Hugh Jackman Interview at Oscars Luncheon
Hugh Jackman Says He Was "Stalkerish" About Nabbing His Les Mis Role
Oscar nominee Hugh Jackman came to today's Oscars Luncheon, and he couldn't have been more effusive about the film he's nominated for, Les Misérables. He complimented director Tom Hooper and the way he shot the film, and he also divulged how nervous it made him to play Jean Valjean.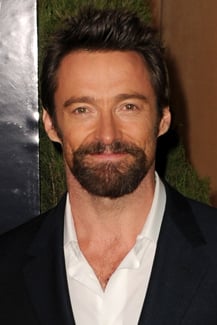 On feeling the pressure of playing such a memorable character: "I was so stalkerish about getting the role. I literally hunted Tom [Hooper] down. Way before he even signed on for it, I auditioned. When I got the call about getting the part, that's when it hit me. It's one of those things of 'be careful what you wish for' because all that history. . . . Of course I downloaded every film, all the French films, the Perkins film, every film that had ever been made, and then I proceeded to watch none of them. Either I was part terrified, or part I just realized I had to make it my own. Even though it is the Hamlet of roles, for an actor, I had to just make it my own. Then I went into 'ignorance is bliss.' With Tom, who is an incredible director."
On the process of filming a movie musical: "Every day was like an opening in the theater, and a closing all at once."
On admiring his director Tom Hooper: "I think what Tom did was take risks. He found a way to find what people loved from the stage show, but [was] brave enough to turn it into film, and give people a reason to love the film. His choice to sing it live, his choice to sing it through, were really bold at the time. And also, like with Anne Hathaway, to not cut on a close-up for three minutes. Ultimately, he made it very theatrical. He made it very theatrical, but gave people a seat they could never get in the theater. He brought the best of theater and the best of film, and then went back to the book to fill in any gaps."