Idol's Top Eight Go Back to Their Youngest Years
Idol's Top Eight Go Back to Their Youngest Years
Last night on American Idol, the top eight sang songs from the years they were born. There were cute moments — baby photos! — but as a whole the performances were pretty lackluster. Danny Gokey kicked off the night with a song that was most certainly not released the year he was born (1980), "Stand by Me." This started things off on an odd foot for me because I totally disagreed with the judges — they liked it and I thought it was perhaps his weakest performance yet. This might be the first time he doesn't get the absolute most votes. Kris Allen continued to be the sweetest and, as the judges pointed out, likable contestant, but "All She Wants to Do is Dance" wasn't his most shining moment either. Unfortunately, things only got worse for Lil Rounds's disappointing "Whats Love Got to Do With It" and Scott MacIntyre's "The Search Is Over." Though, who knew he could play the guitar?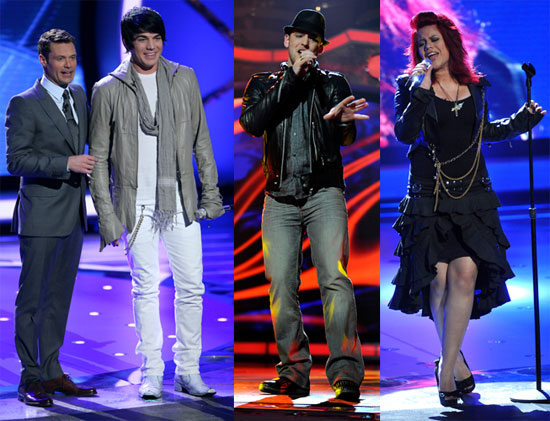 Now for the high points: other than Gokey, who is certainly safe, there seems to be a small pack rising to the top. Matt Giraud's "Part-Time Lover" was right on point, even if the judges didn't have time to give him much critique, while Allison Ihareta's "I Can't Make You Love Me" was a refreshing change of pace for her. Anoop, dog, this was light years better than last week, but I'm just not sure he's going to go much further. Then, then there was Adam Lambert. He might be the most divisive contestant this year, but last night's "Mad World" was a gorgeous song and he did it justice. Without time for anyone but Simon to comment, he simply gave Adam a standing ovation. That had to help win over a few reluctant fans. My guesses for the bottom three: Scott, Lil, and, sadly, Kris. Going home? My guess is Lil. Check out Buzz's thoughts on last night and let us know who you think is headed home tonight.
To see more from the night just read more.