Inside Rachel Zoe's Closet
Inside Rachel Zoe's Closet
Some of the best dressed stars in Hollywood including Jennifer Garner, Keira Knightley, Demi Moore, Cameron Diaz and Salma Hayek turn to Rachel Zoe to create their stunning style for the hottest events. She's received a lot of criticism lately for being too thin, having clients that are all too thin and Nicole Richie even blasted Rachel for her unhealthy ways. Rachel is telling her side of the story this month in W Magazine. Here's more: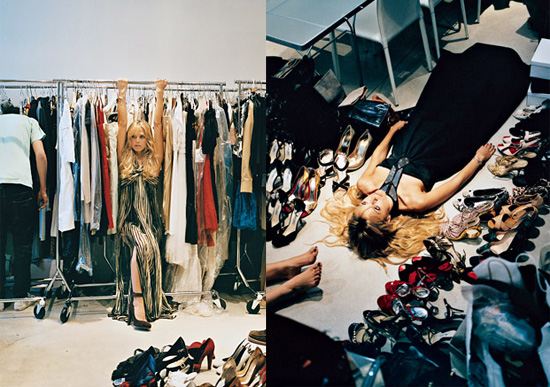 "There was something that came out about me giving horse pills or diet pills from Mexico to my clients," says Zoe. "Anyone who knows me, they laugh. I'm so drug clueless. If I can get through a glass and a half of wine in a night, that's a momentous occasion. I mean, I take Tylenol once in a while, and that's about it."

Though she was born 10 pounds—"the fattest baby you ever saw in your whole life"—the ultrapetite stylist claims that she has been naturally thin for as long as she can remember. "I'm not going to lie. I don't eat like a pig. I don't diet per se, but I'm one of those people that, when I'm under a lot of stress, I have to remind myself to eat," she says. "You're not going to see me eating crap and junk food, because it doesn't make me feel good. But I eat tons of fish and vegetables. And I would never in a billion years tell anyone to lose weight. Ever."

But an especially nasty posting on Richie's MySpace page paints a different picture. The curiously spelled blurb, widely reported to have been written by Richie and aimed at Zoe, read: "What 35 year old raisin face whispers her order of 3 pieces of asparagus for dinner at Chateau everynight, and hides her deathly disorder by pointing a finger at me?"

"That's kind of below the belt," Zoe huffs, when asked about the posting. "I just need to rise above it and let it go. My teenage drama years were a long time ago, and I certainly don't want to relive them. I'm 35, and I just don't want the drama. I'm tired."
Believe what you want she sure is doing something right to land a client list like that. To learn more about a Rachel check out the entire article form W Magazine.