Inside Reese & Ryan's Split
Inside Reese & Ryan's Split
Reese and Ryan sadly announced their split earlier this week, so it's no surprise they have landed a ton of magazine covers this weekend. Since we heard the news on Monday, we have learned more about them fighting in public, and then Reese reading Ryan's Blackberry to reveal a third party may be involved. Life & Style reveals that Reese was worried about Ryan cheating while he was away on set. They also predict that she has the upper hand and is calling the shots. US Weekly is claiming that Ryan was too open with his cheating and when Reese found out he did not deny it. As for that other woman, well her name is Abbie Cornish and you can see pics of them on the set by clicking here.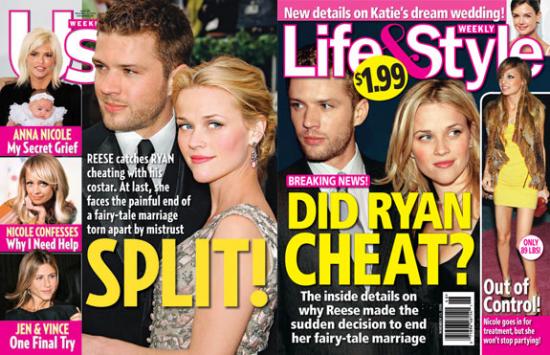 UPDATE - No pre-nup. TMZ reports that Reese could lose millions in the divorce and that while they are trying to keep things peaceful for the kids, there is "no talk of reconciliation and that divorce papers are merely a matter of time."
To read more from this weekend's Life & Style, read more
Here's a teaser of what you'll see in this weekend's issue....
Reese Witherspoon and Ryan Phillippe were always open about their struggles as a couple, admitting to relationship counseling and working hard to make their marriage succeed. But Ryan's actions didn't always match his words. "I once spotted him at a party with some guy friends," says a pal of Ryan's, "and they were flirting with girls all night. He was not acting like a married man."

An insider recalls seeing Ryan at an LA bash, "mingling with Lakers cheerleaders, Playboy models and bikini-clad beauties. He looked like a single guy on the prowl."

Cheating fears
Multiple insiders tell Life & Style that one of the main problems in the marriage was Ryan's constant flirting with other women — and Reese's fear that it went beyond that. "Hearing rumors that Ryan was cheating made Reese seriously question the stability of her marriage," says a friend of hers. "It hurt and angered her beyond belief. And she was mortified that everyone was speculating whether Ryan had in fact cheated. It was the ultimate indignity."

In the past month, adds the friend, Reese, 30, kept hearing stories that Ryan was flirting on the Texas set of his latest movie, about a soldier returning home from Iraq. "She hated being in LA with the kids wondering if Ryan was behaving," says the friend.

No matter how often Ryan, 32, proclaimed his innocence, Reese had trouble believing him. "She wanted to trust Ryan," says his friend. "But it's hard when they spend a lot of time apart."
More on how they fell apart after the Oscar win and what the final days were like at Ryan's NYC premiere. It's so sad and we hate to think Ryan broke her heart. He used to be the sexiest dad and husband but now his image is tainted. I hope we do learn the truth in this mess sooner or later so we don't have to jump to conclusions even if the pieces are coming together the way they are.