Interview with Angelina Jolie Talking About African Barbies, Disney, and Loving Brad Pitt
Angelina Talks Love in Brad's Eyes and African Barbies
Angelina Jolie sat down for yet another interview to promote Changeling, but mostly talked about her family — though the real secret is how she's working out these days. While Brad supposedly got upset with Jennifer Aniston for her "uncool" Angelina comment, Jen talked to Oprah about how it was taken out of context, so hopefully everyone can move on. Meanwhile Angelina had some adorable things to say about Zahara and Maddox. Here's more: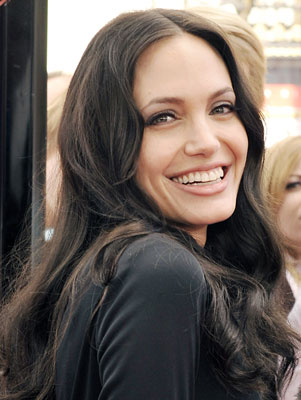 On how she stays positive: "By doing the things which are important and meaningful to you and not worrying about the rest. How can I complain about anything when I wake up in the morning and I'm surrounded by so much love with Brad and our children and the feeling that comes from sharing my life with them?"
On teaching her multi-cultural children: "I want to teach them about all religions, and I'm trying to find a way to do that. And when it comes to the subject of adoption, like when my daughter, who's African, wants her hair to look straight like mummy's . . . and I look for a Barbie that's African, and the African Barbie has straight hair! And you know, why has Disney never made a film with an African-American princess?"
To read what Angelina had to say about Brad with the children, her life, and Maddox just read more.
On her life right now: "This is such a beautiful time for me. When I look back on my life, I never really believed that I would find this kind of happiness on so many different levels. I think I trained myself to expect less, but meeting Brad and being with him has shown me that sometimes it just takes the right circumstances for you to meet a good man who enjoys being with you and working towards the same goals in life. Brad has always been there for me."
On Maddox and Changeling: "What made it particularly troubling for me to put myself into this woman's head was my own relationship with my son Maddox. I just couldn't shake the thought of him through the whole film. Because Maddox is my eldest and also because he says things that are similar to what the boy in the film says. I also talk to Maddox the same way I talk to the little boy. So when Brad and I saw the movie we noticed strange similarities, especially when the boy says: 'Am I too heavy?' Mad says that all the time. And I tell him: 'Oh, never! But one day you're going to carry me!'"
As always, Angelina seems blissful and in love with her life right now, so hopefully all of the old emotions that have been stirred up this past week are on their way to being ancient history just like all that old drama.