Interview with Johnny Depp on Rango, His Sex-Symbol Status, and Why
Johnny Depp Talks Playing a Lizard, His Sex-Symbol Status, and Gets a Visit From Justin Bieber at the Rango Press Day
Johnny Depp got lots of laughs at the press conference for his new movie Rango in LA yesterday. The actor was joined by his costars, Abigail Breslin and Isla Fisher, as well as director Gore Verbinski at the Four Seasons in Beverly Hills. Johnny plays the movie's title character, a pet lizard who is forced to save the day after a lie gets him in over his head. Johnny admitted that his own kids aren't all that interested in his career, and are far more into Family Guy and Justin Bieber. It turned out that Justin happened to be in the hotel, heard that Johnny mentioned him, and dropped by to say what a huge fan he is in the middle of the press conference! Johnny joked, "What am I going to tell my daughter?" Johnny, who was as gracious and funny as you might expect, also talked about tackling the challenge of playing a reptile and the reason he enjoys making movies for children. He said: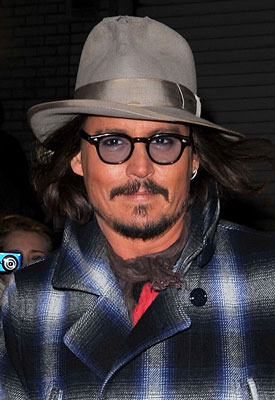 On why he enjoys making kids' movies: "I think kids, in general, as an audience, are the way forward because they're not sort of sullied by intellectual expectation or this or that. It's a very pure sort of response to the work, and the great luck that I had, for example before Pirates [of the Caribbean], I had a daughter. And for about four years, all I watched was cartoons. Just cartoons. And I realized at that point the parameters were far away from what we do in sort of normal, everyday movies. You can get away with a lot more. They accept a lot more and they buy it, because they're free. So for me that was everything in terms of coming up with what Captain Jack would be. I trust kids far more than I do adults. Kids give you their honest opinion. They tell the truth."
On how his own children felt about Rango: "They actually call me the Lizard King, my children, they do. I force them to address me like that. [laughs] It was an odd sort of thing. 'Where you going daddy?' I gotta go to work. 'Well, what are you doing?' Well, I'm playing a lizard. You drop your kids off at school and give them a kiss, and now I gotta go be a lizard. The things I've done that my kids are sort of privy to — Willy Wonka — it doesn't register. They're far more interested in Family Guy or Justin Bieber. [Someone calls out, 'Are you a Belieber?'] Belieber? I've actually never heard that one, and that is my favorite. And you know what? Yes, I am a Belieber. And I shall remain so. "
On how he feels about his sex-symbol status: "Attention is a strange sort of being anyway. If someone appreciates your work, it's always nice if someone appreciates your work. I've never quite understood the other bits, where somehow you've been voted some thing for a magazine, and it's a complete mystery to me. I wake up and I have to look at that head when I brush my teeth every morning and it's weird, and it's unpleasant at times, so I don't know about the attention."
To read the rest of Johnny's interview, just read more.
On what Jack Sparrow has in common with Rango: "I don't know, I've always had an affinity for lizards. I've always felt close to them. Feeling somewhat reptilian myself at times. Oddly, I think, Gore might even disagree, but I feel like when we were doing Pirates 1,2,3, at times, when Jack Sparrow had to run, it was this very specific run I wanted. I'd seen this footage of a lizard running across the water and it was the strangest thing I'd ever seen. So whenever we were in that situation, [I'd] get in touch with the lizard. So I actually think that Rango was somehow planted in Gore's brain from that lizard run. When he actually called me and said, "I want you to play a lizard,' I said, 'God, I'm halfway there.'
On his own experience with lying: "I actually tell lies for a living. That's what acting is, really! I felt, having kids, that I had horrific guilt for many years playing along with the Santa Clause thing, waiting for that moment to arrive. Because you're never going to bring it up them. They're going to go…'Hey, you've been telling me a lie for my entire life. What are you prepared to do about it?' So yeah, I had horrific guilt and we're now just on the outskirts of that, so I feel okay. These are lies that society tells you you have to keep these lies going, these myths. So I felt guilty about it. I still do.
On whether he likes making animated films vs. live action: "We're lazy—at least I am. I'd rather just sit in front of the microphone and do the thing. However, the process that Gore created, this sort of atmosphere that was really, truly ludicrous, just ridiculous. It was like regional theater at its worst. And somehow...[it's] emotion capture. Certain gestures, body language, movements, something you might have done with your eyes…these animators took it and put in there. It was very strange. For Harry Dean Stanton to walk up to me one afternoon…he walks up to me and says, 'This is a weird gig, man.' And I went, 'Yeah.' He had just started and I said, 'Just wait.'"
On how he developed Rango's voice: "Early on, some of the talks that Gore and I had about the character—talk about two grown men, middle-aged men, discussing the possibility of one of them being a lizard. So it starts off on a really surreal note anyway. Finding the voice or finding the character—we talked about when, people in life, they have a tendency to exaggerate or lie…you always notice their voice goes high…that's kind of where it came from. You imagined the character to be just really like a nervous wreck."