Interview With Leighton Meester on Country Strong, Becoming an Aunt, Gwyneth Paltrow, and More! 2011-01-05 10:55:00
Leighton Meester on Going Country, What She Learned From Gwyneth, and Her Surprising Love of Sweatpants
Leighton Meester is a long way from Blair Waldorf with her latest big-screen role in Country Strong. She plays a small-town singer trying to navigate life, love, and a budding career in the film, which opens wide this Friday. The Gossip Girl star sat down to chat with us a few weeks ago during her junket in Beverly Hills. She talked about her days as a struggling actress, the elaborate "Country Barbie" costumes she wears as her character, and the life lessons she learned from her costar Gwyneth Paltrow. Here's more from Leighton: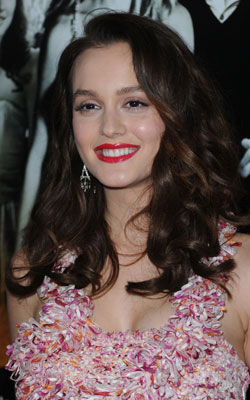 PopSugar: Were you intimidated at all when you first walked onto the set? You walk on the set and there's Gwyneth Paltrow. What's going through your mind?
Leighton Meester: I think when you're working with her, she makes you want to be good. And Shauna [Fest, the director] too, and Tim [McGraw] and Garrett [Hedlund], and everyone was wonderful to work with. I come from Florida, but I was trying to contain myself a little bit.
PS: The advice that Kelly [Gwyneth's character] gives you at the end of the film – how true does that ring when you're in the entertainment industry, and has anyone ever sat down and given you a good talking to like that?
LM: I've been pretty lucky. Over time, I've sort of absorbed little tidbits of information from different people. I think it takes experience and time to learn. I think the best thing I've learned from working with someone like Gwyneth is, she's incredibly talented, and I think she's one of the best, but she is also incredibly down to earth and kind, and everybody loves her. Everyone she works with loves her and there's something to be said for that . . . when you see someone like Tim or Gwyneth, and they have family life, and they know where their heart is, and work is important, too.
PS: Can we please talk about the physical look of your character? The eyelashes, the sequins?
LM: [Laughs] Country Barbie? I've never gone through so much makeup in my life. It was tons of hair and curls and I would ask, "Can I wash my hair, finally?" There was so much extra hair in there and hairspray and teasing. I kept on putting my fingers in there and saying it felt like a cemetery. I don't know why, it just felt like the ground with weeds and stuff in it, but under this lacquered, perfect, big bouffant from the back. Tons of eyelashes and mascara and lips and cheeks and acrylic nails and the whole thing, and then on top of it, a blue leather dress with gold sparkly heels and a little cross for good luck. It was fun.
For the rest of our interview with Leighton, just read more.
PS: How would you describe your personal style?
LM: Personally, I really like those days when I can just wear sweatpants, to be honest. And when I'm actually going to go somewhere, I like to be comfortable and casual. If I'm doing something a little more fashion, going a little bit further. It's about expressing yourself and being comfortable and wearing what you like.
PS: Do you have any favorite designers?
LM: Yes, and there's a lot. I really like Marc Jacobs, Louis Vuitton, Miu Miu, Alaia, Celine.
PS: Who, for your character, did you watch and look at as a real-world template?
LM: That's where YouTube comes in. Videos of the CMAs, any kind of research I could do. Just for the performance aspect of everything, because that was an entirely different part of it. So, obviously, I was watching Taylor Swift and Carrie Underwood. Then, during the rehearsal process, Shauna took me to a few honky-tonks and we saw people performing. They're downing shots of whiskey, and getting up on the bar, and not necessarily — a lot of them are great, really good — but a lot of them didn't know what to do with their hands, weren't 100 percent comfortable. And then we went to the Ryman and saw Carrie Underwood and Martina McBride performing, and they're just these huge stars who are clearly very comfortable with their voices and their bodies.
PS: Your life has changed so much in the last two years. What's been the biggest change for you?
LM: I moved to New York, which I wanted to do for a long time. I think about if I see something from [Gossip Girl], the first year. I think, "Six months before that I was driving through Taco Bell in LA and wrapping pennies and just trying to make it." But I really am glad for those times. I'm really glad for these times, too! And also, my brother had a little baby, and she's really cute. I call her baby, but she's 3 now. But she's really wonderful and it's just weird to see my brother. He's changed so much and he's a good dad. You know, that has made me realize what really is important. It's not money. I don't want fame, I don't want any of that for my life. I want to grow as an actor and a person and have my family and my life.