Introducing: Celebrity Sightings!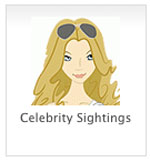 We love writing about celebs and updating you on the latest news and gossip but we know that you have lots to say too. That's why we've started a new feature called Celebrity Sightings. It gives you a chance to share your experiences, new or old, about the celebrities that you've had the pleasure (or displeasure) of coming across. Got a picture of Nicole Richie eating or Jessica Biel walking her dogs? Post it in our suite! Tell us about your own brush with fame or how much better looking Clooney is in person.
To post your story and/or pic go to Celebrity Sightings. And if you want to learn how to do a blog post click here. We can't wait to see your photos and hear your stories and we plan to post our favorites right here on Pop!