Introducing Our Celebrity Faceoff For Your iPhone!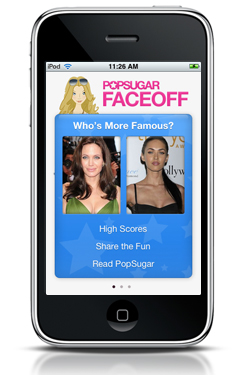 You've played our insanely addictive faceoff games, and now you can have it anytime on your iPhone! Joining the amazing ShopStyle iPhone app, meet our newest addition to the store — faceoff for your iPhone. You can show your expertise at the original Who's More Famous faceoff, as well as try out Who's More Fab and the MTV Movie Awards fashion faceoff. Check out the hundreds of celebrity and red carpet photos.
Play against other PopSugar readers any time any place. Plus, you can share it with your friends and compare scores right from your iPhone! Just click here to get the app and start playing!