More drama from the set of Grey's Anatomy. It seem as if this show has as much going on behind the scenes as it does on screen. The latest in trying to learn more about why Isaiah lashed out at Patrick last week is US Weekly's cover story. Sources are saying Isaiah has a lot of built up resentment for Patrick. After all, they did both go for the part of Dr. McDreamy and now Patrick is landing all those magazine covers. Perhaps the feud is all a bit of jealousy. And to top it off, this is not the first time Isaiah has got into a fight on set. US Weekly reports: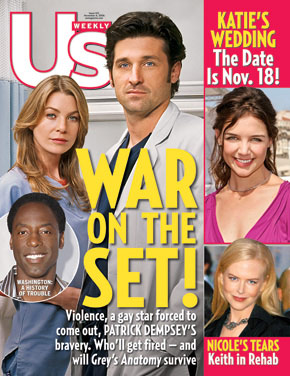 "There was lingering resentment between Patrick and Isaiah before this happened," says a set source. "It seems like Isaiah is pissed that he doesn't get the same attention Patrick does."

Another source of on-set tension? "Everyone on-set is intimidated by Isaiah," says one source familiar with the day-to-day of shooting. "He's not approachable and doesn't chat with the cast or crew unless they're addressing him." "Isaiah is all about ego," says another cast confidant. "His attitude is, 'I'm a star. I should get all the attention.' Few on that set like him."

While filming the 2000 movie Dancing in September, a woman on-set says the actor made a sexist remark that made her cry. "I did nothing to deserve that," she tells Us. Washington allegedly acted aggressively with a female costar during a scene for Soul Food in 2000, according to TMZ.com. Though he had no comment on the incident, Soul Food exec producer/writer Kevin Arkadie tells Us, "He's mercurial…We had to have a conference now and then."
And now Isaiah has issued an apology for the Grey's fight. He said, "I sincerely regret my actions and the unfortunate use of words during the recent incident on-set. Both are beneath my own personal standards. … I have nothing but respect for my coworkers … and have apologized personally to everyone involved."