Isla Always Lets Out Her Inner Clown and Wears Underwear
Isla Fisher looked a little bit blue out grabbing coffee in LA yesterday. She has quite a keychain to let her into any number of doors, and there's one big one in particular that's about to open in her life. The hotly anticipated Confessions of a Shopaholic hits theaters February 13. This weekend she answered questions about the movie and a little bit about her own shopping habits. Here are some highlights: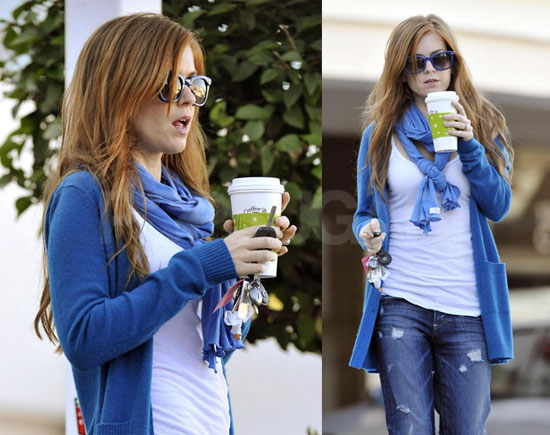 On playing the role using her clown training: "I trained at a theatre school called Jacques Lecoq in Paris . . . and we focus on comedy de l'arte and bouffant and mime, so technically I definitely learned a skill-set, but just personally I've always been someone who loves to tap into their inner-idiot and I've always been the clown of my family, and I think I've always just enjoyed, you know, mucking about, and I'm just fortunate that I get paid to do that now."
On shopping vs. men: "No, I shop rarely and poorly. I definitely appreciate men more than stores."
On what she can't pass by: "There's nothing really material that I can't pass by. Maybe underwear. . . Just out of necessity, just in general underwear. It's not such a good look, not having underwear."
On playing comedic roles: "You know, I have to say, I love comedy, I love, just you know I love the freedom that comedy brings, but I'm open to working with any filmmakers. It's all about the story and the character for me rather than the genre."
On the Confessions part: "I was a huge fan of the books. I had read them all long before I heard about the project, and when I heard about the project and that Jerry Bruckheimer was producing it, obviously who I was a huge fan of, I didn't think in my wildest dreams, that I would even get a meeting, let alone get the role. I literally still cannot believe I got the role. It's very exciting for me."
Rebecca Bloomwood's outfits will light up the screen, but it will be Isla who brings her to life. We know she's got the comedic talent for a hit so hopefully everything goes smoothly for Isla's biggest role yet.