JT and Jessica's Sundance Getaway
JT and Jessica's Sundance Getaway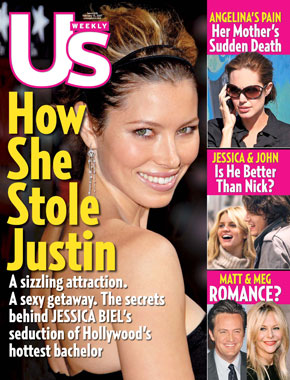 Since his split with Cameron, JT has been linked with a variety of lovely ladies. According to US Weekly, he skipped the afterparty for Black Snake Moan at Sundance to hang out with the super-toned Jessica Biel. She also shacked up with him at his $1,950-a-night four-bedroom condo at the Trail's End in Deer Valley. Here's more:
"He called her and asked her to come," says a source close to Biel, 24, who was spotted snowboarding with Timberlake, 26, the next day at the picturesque Park City Mountain Resort. "And she was like, 'What the hell? I'll go!' She is really spontaneous and fun."
Though the two rarely left their cozy digs, a mutual pal who spent time with the couple tells Us, "their relationship looked like it was definitely working for them."
However, People claims Biel and JT are just friends. Finally, we would like to wish a very happy birthday to Hollywood's newest most eligible bachelor. Justin turns 26 today! We wonder who he is choosing to celebrate with tonight.