Justin Timberlake is finally ready to open up about the important things...like his appearance on Punk'd back in the day. Timberlake (correct me if I'm wrong) was the first victim ever on Ashton's show and got a little emotional about the prank, which included a crew of people pretending to repossess all of JT's belongings...including his dog. Yes, he totally thought it was real. Also, don't believe the following quote, Justin totally cried. Here he goes: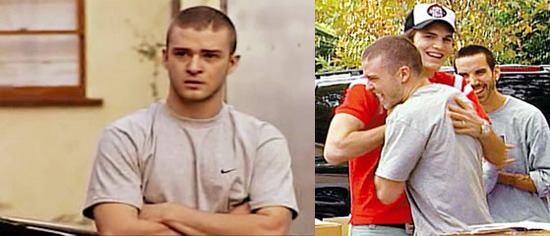 ...But by the time he went solo to record Justified, the committed perfectionist seemed like he couldn't quite hold it together. In fact, he had become a bit of a stoner. Timberlake has previously admitted that Justified was constructed in something of a marijuana haze. That partly explains, Timberlake says, his somewhat bewildered 2003 appearance on Ashton Kutcher's MTV prank show, Punk'd. Timberlake, who was tricked into believing that his possessions were being taken away by the tax authorities, seemed totally devastated — for a minute there, he was known as The Man Ashton Kutcher Almost Made Cry.

''I'll give you a little hint on that Punk'd thing,'' Timberlake says. ''That was back in my first-album creative days. That's why I looked the way I did, if that makes any sense to you.''

Can I confirm what you're saying here?

''I don't give a s---.''

Were you stoned?

''Incredibly,'' he laughs. ''Yeah, that was a trippy experience. That was why I was completely glassyeyed.... As a matter of fact, I was like, Okay, I got to stop doing this.... I don't do that anymore.''
Ohhh, Love Stoned, indeed.