Jacki Weaver Interview at Oscars Luncheon
Jacki Weaver Talks About the Positive Reaction to Silver Linings Playbook at Oscars Luncheon
Australian actress Jacki Weaver is up for best supporting actress for her role in Silver Linings Playbook, and at today's Oscars Luncheon, she talked about all the good things she's heard about the film. Weaver spoke about not only the movie's reception from psychological professionals, but also how average people on the street have approached her to talk about it.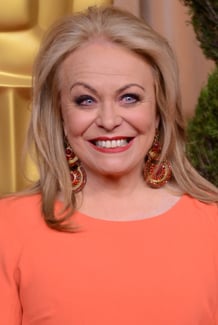 On what she's learned about mental illness from doing the film: "Like most people, I have acquaintances and friends who have problems with psychological ailments. I did a lot of research, and I've got a couple of girlfriends who are clinical psychologists, and I also know a couple of psychiatrists myself. One of the things about the film coming out is that they've always responded so positively, saying that it is the best depiction and most authentic portrayal of mental illness that they've ever seen, and they're professionals."
On the public reaction of the film: "I've had people walking up to me on the street, and apparently the website is filled with messages from people saying how it resonated with them. David O. Russell has gone on record saying he made the film partly so that his son would not feel that he was on his own, and I think this is proven by the response it's had."
On her award recognition in the US: "I'm amazed. I still can't believe it's happened to me."
On being recognized by the AARP: "I'm 65 and very happy about it, I have to say. That's very nice! It's even more fun when schoolboys in the street recognize me."