Jaden Says He Was Tricked into Pursuit
Will, Jada and Jaden attended a charity lunch in aid of The Prince's Trust prior to the UK premiere of The Pursuit of Happyness today. The film is still #2 at the box office here in the states, and we're sure it will do just as well overseas. I mean how could anyone resist little Jaden, he is just the cutest! He and Will are just perfect together in the film, even though Jaden recently said he felt somewhat tricked into it by his dear old dad. Here's more: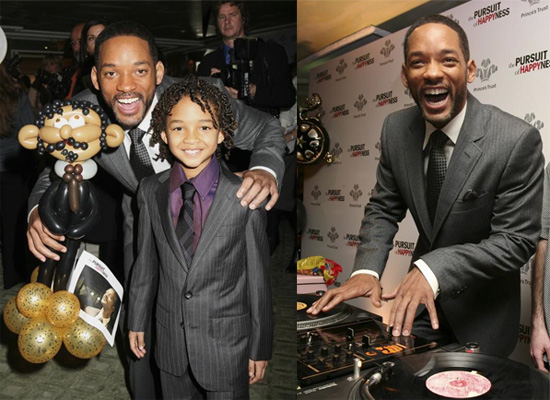 Jaden said, "It's kinda cool" working with his very famous father, but he admitted, "I thought it was extremely harder than I thought it was gonna be. ... because I thought he tricked me, because I thought it was gonna be a comedy, 'cause he does 'Fresh Prince of Bel Air,' 'Men in Black,' all that stuff that's funny. And then he just comes up with a drama."

"He told me he was a little nervous about cryin'" Will Smith said.

"Were you embarrassed about cryin'? Or what, what was the thing? Or you just didn't feel like it?" Smith asked his son.

"I didn't feel like it," Jaden said. "I didn't feel like it, and like, it's hard. But I just knew I could do it."

"You weren't scared or anything with the cryin'?" Smith wondered. "'Cause like, he really, he really didn't want … to do it, you know. I'm walkin' him around for about 15 minutes after the scene. And I'm sayin', 'It's OK, man. You know, you're a great actor. Relax.' And he goes, 'I wanna make comedies.' "
I guess we know what's up next for Jaden. This kid is sure to have a long career ahead of him. For more pics including Will, Jada, Jaden, Thandie Newton, Joanna Lumley, Dynamo, Adam Gibbs, and Anna Kari just read more