James Franco Interview For Oz The Great and Powerful
Oz: The Great and Powerful Set Visit — James Franco on Why It's the Right Time to Return to Oz
James Franco has a lot to live up to when he steps onto the yellow brick road in next month's Oz: The Great and Powerful. In the prequel, he plays the titular Oz, a morally ambiguous magician who crashes down in the Emerald City in hopes of fulfilling his dreams of being a rich and famous wizard. When I visited the set of Oz: The Great and Powerful last year, Franco talked to me and a few other reporters about why it's the right time for another Oz movie, and what it meant for him to step out onto that yellow brick road for the first time.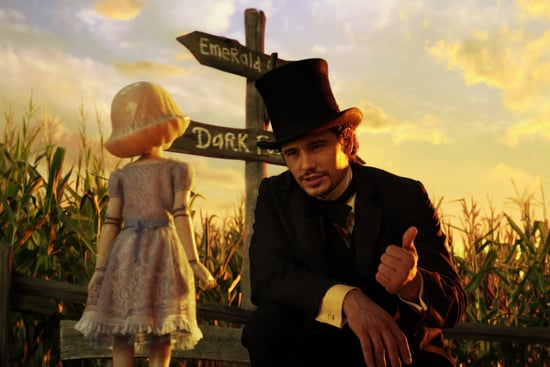 When Sam Raimi approached you with the script, was it an immediate yes?
James Franco: Yeah, it was a pretty easy decision. [Robert] Downey Jr. had fallen out — I'm not sure why — and then they were talking to Johnny Depp and he didn't end up doing it. So then I had a meeting with Sam, and I read the script and briefly talked about it. It was just kind of an understanding that we both liked the approach, that there was one aspect of it that would pay tribute to the collective sense of Oz, but there would be a fresh take. Mainly through the portrayal of Oz, because Oz, as we all know, in the '39 movie is an older gentleman. Now you get the young Oz. So you get a different kind of spirit into maybe a familiar fantastical world.
Can you describe your reaction when you first walked on the yellow brick road, and just being in a Wizard of Oz movie? What does that mean to you?
JF: The yellow brick road is so iconic and it was just plain fun to be able to do scenes on the yellow brick road. And I actually was a fairly big reader when I was younger, and I think the first books I read on my own were the Baum Oz books, the 14 or 15 that he wrote. So like a lot of movies that I've done, it's really satisfying to step into this world, because it's material that I was fascinated by when I was younger. It's also great because Oz is such an established place in the collective imagination. Yes, there's a danger of, like, ruining people's expectations or their idea of Oz, but I think that the spirit here is right, and the intentions are right. So I think they are going to capture what people think of Oz, while still adding this great spirit. But it also gives us this freedom to make a movie that otherwise might be slightly childish, but because the original Oz is now considered a classic, we can kind of play with this childish fantastical world and it doesn't have to feel like a children's movie. So it's really nice.
What's the key to playing a convincing con man?
JF: I'm sort of a con man, but the character starts off as a magician in a traveling circus, so it's not like he's out robbing banks or scamming people like Dirty Rotten Scoundrels or something. So we had Lance Burton here from Vegas; he's one of the big magicians from there. He showed me a lot of tricks and magic, and it's kind of just about creating a convincing illusion; it's kind of a showmanship.
To see what else Franco had to say about the movie, just read more.
Can you talk about Oz's shabby-chic wardrobe?
JF: In the beginning, Oz is not the most successful magician. So these are the clothes from Kansas, and it's a way to set up his attraction to wealth, but really kind of a drive to pull himself out of the poverty of his early life. I guess the story is he grew up on a farm, too, and his father struggled to make ends meet. So Oz's life is, at least in the beginning, motivated by a need to better his economic standpoint.
There's an occupational hazard for con men where they start to believe what they're selling. Does that happen to Oz in this film?
JF: I guess in a sense that we play with the idea of Oz being a magician in a traveling show, so he's not what we would call a real wizard, who can make lightning shoot out of his fingers. But then he comes to a land, where people are actually performing magic, so there is this constant tension between real wizards and false wizards.