James Franco Writes About His Soap Work — Is It Performance Art or Does He Take Himself Too Seriously?
James Franco has been mixing things up with his role on General Hospital, and his character apparently encountered some trouble with the law considering this mugshot. He's also trying to provoke a larger discussion around his work in the series with a piece he wrote for today's Wall Street Journal. He penned a lengthy examination of performance art, attempting to answer whether this project constitutes a legitimate example. He wrote,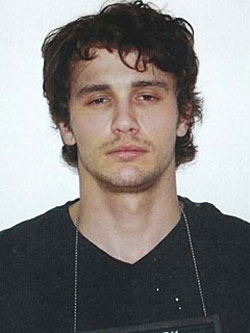 "I disrupted the audience's suspension of disbelief, because no matter how far I got into the character, I was going to be perceived as something that doesn't belong to the incredibly stylized world of soap operas. Everyone watching would see an actor they recognized, a real person in a made-up world."
His three days on set will ultimately translate into 23 episodes worth of work, and once those are over, his "character's storyline will be advanced in a special episode filmed in a 'legitimate' New York gallery." It seems as though James put a great deal of thought into this latest project, so tell us what you think — is he creating performance art or is it just an example of an actor taking himself too seriously?