Jamie Dornan Filming Fifty Shades of Grey Movie
Christian Grey and Anastasia Steele Together on Set!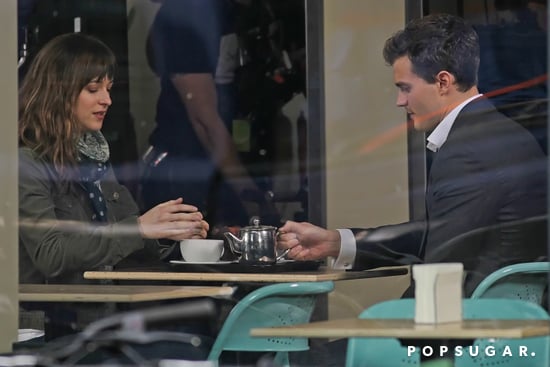 Jamie Dornan and Dakota Johnson made their debuts as Christian Grey and Anastasia Steele on the set of Fifty Shades of Grey in Vancouver, Canada, on Sunday. The British actor sported a crisp suit while shooting scenes in a coffee shop. Dakota already showed off some of Ana's mannerisms. Joining Jamie and Dakota on location in Canada was Fifty Shades author E. L. James, who shared a photo from the set on Instagram, writing, "Action!"
While this is the first time we're seeing Jamie and Dakota in front of the camera, we did get a glimpse of them together channeling their onscreen personas in a recent issue of Entertainment Weekly. Though the filming of the much-anticipated adaptation reportedly began today, fans of the sexy book series will still have to wait until February 2015 to see all the action on the big screen (and it may be worth the wait, as producer Dana Brunetti revealed that there may be R-rated and NC-17 versions of the flick).