Jamie Foxx Mentors Jennifer Hudson
Jennifer Hudson performed for a sold out crowd on Saturday night at The Hammerstein Ballroom in NYC. After the show she spoke about how her life has changed, what it's like to be the underdog and how Jamie Foxx was her biggest supporter. Here's more: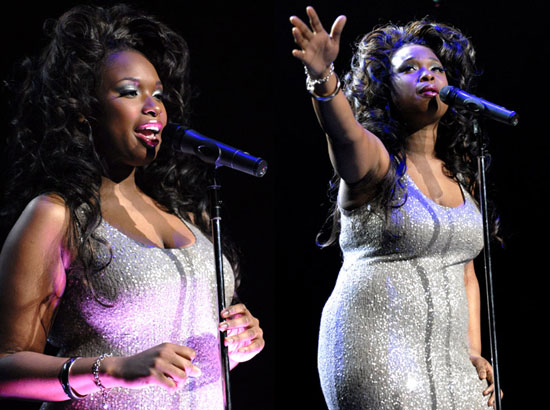 Jamie would call me every Sunday during the summer. It would never fail, and the first time he called I was like, "Oh, my God. Jamie Foxx just called me!" But he was so supportive, so sweet so helpful ... during filming. And he came to me at the end of filming and he pulled me to the side and he was like, "I didn't want to distract you while you were working, but now that we're at the end, I can say what I want to say." And he was like, "You know what? We really think you did something special. I feel like you're about ready to go down the same road that I just experienced (winning an Oscar for her performance in Ray), and if I can do anything to mentor you and help you out, I'd be happy to."
Sounds like Jamie really believed in her. We loved her on Idol and after seeing Dreamgirls we can see why he was such a fan. Lots more pics of Jennifer belting it out, so read more