Jason Lewis Talks About Returning in the Sex and the City Sequel, Simon Rex on Paris Hilton Marrying Doug Reinhardt
"Good Chance" Jason Lewis Will Be in the SATC Sequel, Simon Says Paris Seems Ready For Marriage
The 2009 GLAAD Media Awards came to San Francisco Saturday, the third event in their series of traveling galas after last month's star-studded party in LA and their March bash in NYC. We had the chance to chat with Jason Lewis about reprising his role in the upcoming Sex and the City sequel and SJP's special deliveries. Simon Rex was also on hand, and he opened up about his good friend Paris Hilton and her relationship with Doug. Here's more: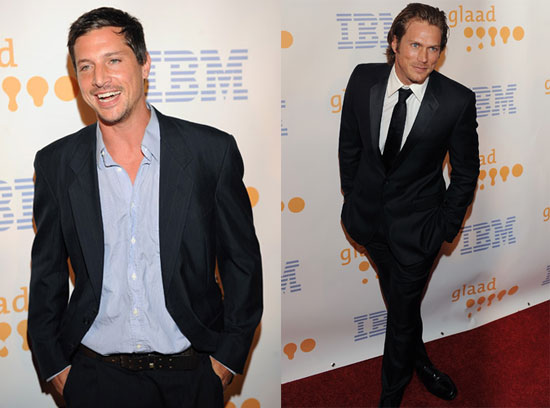 Jason Lewis:
On returning in the SATC movie sequel: "[There's] a good chance, yeah."
On keeping in touch with the SATC ladies: "I see them out every now and then. We never really got on the phone with each other every day."
On SJP's twins and James Wilkie: "Congratulations! That's awesome. . . She's a really neat lady. She's obviously prolific in what she's done — she's successful — but when she brought the kid to the set, mom would come on. She's very sweet with children, you can see that joy and innocence come out of her."
To see more photos of Jason, as well as pictures of Simon and what he had to say about Paris just read more
Simon Rex:
On collaborating with Paris as his alter ego, rapper Dirt Nasty: "I do want to do a song with her! She's so busy but I'm trying to do a song with her. We were supposed to a couple times but she's really busy. She's got a new boyfriend so she's always out of town."
On her boyfriend Doug Reinhardt: "He's a really nice guy, actually. I've met him a few times. He's a good dude. As long as she's happy, that's what matters."
On whether they'll get married: "It seems like she's ready to settle down."
On his latest project: "I'm shooting a pilot presentation with Lance [Bass], and he was such a good sport. We had him come down and go on a date with me, it was really funny. He had a great sense of humor and he's a good dude. I hardly knew the guy, we did a charity basketball game with him years ago. I tracked him down, I found his phone number, called him and said will you do this thing with me. He did it for no money, and he was a great sport. Good dude."