Javier and Amy Are Among The Critics' Choices
Javier and Amy Are Among The Critics' Choices
Start Slideshow
ADVERTISEMENT ()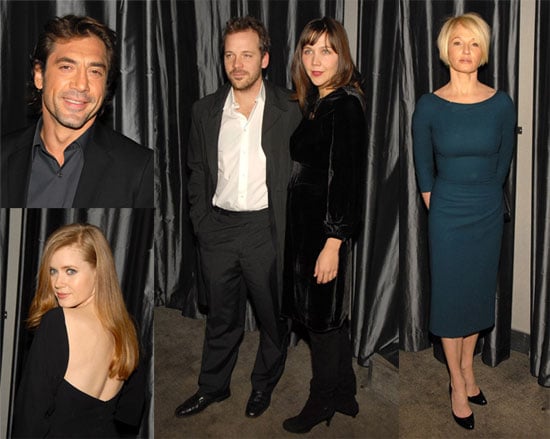 0
Javier and Amy Are Among The Critics' Choices
Last night in NYC some of the years biggest breakout stars like Javier Bardem and Amy Adams came together with old favorites at the 2007 New York Film Critics' Circle Awards. The winners were announced last month with both Amy and Javier among them and his No Country For Old Men taking home the honor for best movie of the year. Maggie and Peter left the baby at home for the night and Bella wants to know what do you think about her more natural look? Javier's not looking so bad himself these days, though his girl Penelope wasn't by his side for the night. Who knows, this may not be the only award Javier wins this week — with the Golden Globes on Sunday he may be getting another statue for his mantle.
To see more from the awards including Daniel Day-Lewis, Amy Ryan, Peter, Maggie, Javier and others just
.
Images include: Peter Sarsgaard, Maggie Gyllenhaal, Patricia Clarkson, Javier Bardem, Daniel Day-Lewis, Amy Adams, Amy Ryan, Ellen Barkin, Campbell Scott.